Concealers are available in a wide variety of colors and skin tones. Concealers are designed for general blemish and complexion correction. There are so many ways to apply concealer. In this article, we will share best techniques to apply concealer. We will also tell you about which concealer will be best for your skin tone. Read this article and learn to apply concealer.
Different Forms of Concealers
Concealers are manufactured in a wide variety of forms according to your skin texture. It is important to buy the right concealer formation suitable to your skin type. Don't forget that concealers are made to provide buildable coverage which means they are ideal for hiding serious or dark blemishes.
Liquid Concealer:
Liquid concealers have more consistency as a liquid foundation. It works best when applied with makeup sponge and brush. Liquid concealer can be used for full coverage, usually, it takes a long time to set. There is few liquid concealer which does not blend with makeup. That's why it is important to blend this concealer with foundation before drying completely.
Cream Concealer:
Cream concealers are easy to apply. They can be applied with the fingers. They are pressed into tins and have a creamy texture. These concealers give a high coverage. Cream concealers are good for those who want to cover significant blemishes. They stay tacky and do not dry out, flake out or crease during the day.
Stick Concealer:
Sticky concealer is combined according to our convenience. It looks like lipstick tube with the goodness of cream concealer. Do not apply this stick directly to the face. Always use fingers or brush to apply.  Stick concealers also work like cream concealers and give you a full coverage.
Powder Concealer:
Powder concealer is the lightest type of concealer available in the world of concealer. This concealer is made for use with mineral makeup system. They have the consistency of pressed facial powders. Powder concealer is made to give you a medium level of coverage. But they can be easily overridden when used ith cream and liquid foundation. Powder concealer is good to use with powder foundations.
Pencil Concealer:
Pencil concealers are pretty much like stick concealers but are made from a less viscous formula. Its consistency is like a traditional hard eyeliner. This concealer is good for the individual who wants to make a medium level coverage. Pencil concealer stays in very hot conditions which make it a good choice for the summers.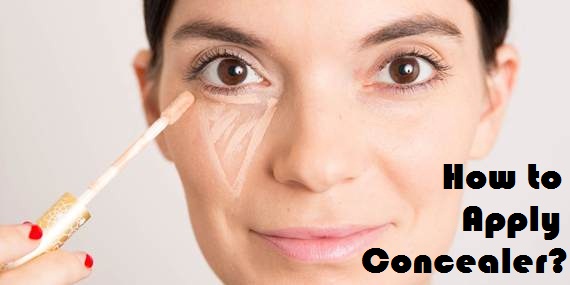 Types of Concealer Colors
There is a wide range of concealer colors available in the market. Each concealer is designed to target a skin tone or scar problem. Here is the list of concealer colors, providing information about which concealer is designed to correct which skin type or tone.
Orange Colored Concealer:
Orange concealers are designed to disguise the heavy shades of blue. These concealers are good to hide the under eye circles. Orange undertones, making them ideal for covering under-eye circles and bruises.
Pink colored concealer:
Pink colored concealer is specially designed to cover yellow or pale yellow skin tone. These concealers are very effective to use as an eye brighteners. It works best for one with fair skin tone.
Blue Colored Concealer:
Blue concealers are meant to cover yellow and yellowish orange blemishes. They help to add brightness to the fair skinned people.
Purple or Mauve Concealer:
Purple and mauve colored concealers are also designed to cover yellow tones. Mauve and purple color concealer can give a full coverage to hide age spots and sun spots.
Green Colored Concealer:
Using green colored concealer is a good choice to cover red tones in the skin. Generally, they are used to hide acnes and blemishes. They can also be used to cover outbreaks.
Yellow Colored Concealer:
Yellow concealers are made to cover blues in the skin. They can be used on under-eye circles. Yellow concealer can be used on the thin skin to hide veins.
Tips to Apply Concealer
1.) Select One Shade Lighter
When selecting a concealer, go for one shade lighter than the foundation. If apply concealer on the red and dark areas, use one shade lighter then your makeup. This trick will help to even out the tone. Don't go too much lighter with the product though it can give a clear of wearing too much makeup.
2.) Apply Concealer to Cover Up Under Eye Circles
Apply concealer to cover under eye circles by using a concealer brush or your fingertips. Start apply concealer from the inside corner of the bridge of your nose and slowly move to the opposite side of the corner. Blend the concealer around the corners, so that it do not look odd and change the tone of your skin and concealer.
Do not rub concealer around your eyes because the skin around the eye can be damaged very easily. Just pat the concealer with the fingertips or brush in order to blend it into the skin. This will give you a more coverage.
Apply concealer on the on the inside of your nose if your eyes are deep-set. This area is usually neglected when concealer is applied and make you look sleepy. Ensure to apply concealer all the way to the base of the lash line, directly under the waterline.
3.) Apply Concealer for Acne and Spots
Now cover acne, dark spots, scars, sun spots or birthmarks with concealer. Dab the concealer onto the mark and blend in outward directions slowly. If you have zits, don't blend concealer with fingertips. Use a clean makeup brush to keep bacteria away from spreading. If you apply concealer over a big area, use a thin layer of concealer and blend the edges very well.
4.) Set Your Concealer
Add a layer of foundation over the top of concealer when you are done with your under eye spots and dark circles. You can use loose compact powder foundation. You can also use a cream or liquid foundation. Spread the foundation over your face. You can also use a cream or liquid foundation, but you will have to add an additional setting powder over the top. Use a clear setting powder with the large brush over the top of the face, it also has the concealer.
5.) Apply Rest of the Foundation Makeup
Put on your foundation. After applying your concealer to your liking, the next step is to put on your foundation. Select between liquid, powder, cream, or mist foundations to make a smooth skin tone.

Add a bronzer. Once done with the concealer and foundation, it makes your skin completely smooths out your complexion, but also covers any natural shadows or bronzed areas that the skins have. Apply a bronzer to the cheekbones, inside contours of the nose, and around the perimeter of your face to add dimension to your makeup.

Put on blush. Though not everyone has a natural rosy tint on their cheeks, it is obvious to have a little blush comes naturally on your face. Add blush to recreate this over the top of your flat foundation.

Create highlights. To add more depth to your face makeup, apply a cream or powder highlighter along the tops of your cheekbones, under brow bones, and the inside edges of your eyes. Doing this will make your face pop and set off your entire makeup look.

Fill in your eyebrows. It is likely that with all the makeup that you've been throwing around that your eyebrows have gotten a little colored and look little dull. Apply in the eyebrows to make a natural darkness and draw attention to your eyes and the shape of your face. Now you are finished with your makeup.