After writing about best shampoo for curly hair, best shampoo for dry hair, and best shampoo for colored hair, here is another article of best shampoo for oily hair. Oily hair can be simply annoying. Oily hair is a condition that is very common for almost everyone. Thankfully, there are few tricks out there that can help you get rid of the problem. Few shampoos specifically designed to help those who have unwanted oily hair. Those shampoos are meant to clarify and purify any impurities. There are so many products in the market and it becomes very difficult to decide which one to buy. It is important to buy suitable shampoo for your hair so that pH level of your hair don't get changed or affected. Not all shampoos are formulated in the same way, so they will not all show the same results. 
What Causes Oily Hair?
When attempting to get rid of unwanted oil, it is important to fully understand why it is there in the first place. Oily hair can be produced due to many reasons, but the main reason is related to the maintenance of it. So it is important to look the ingredients in your shampoo to ensure that they help in this situation. Our hair requires a good maintenance and care than many of us may think. Hair must be washed frequently to prevent oil. So the hair needs to be kept clean, oil free and refreshed in order to remain beautiful.
Sebaceous Glands:
The skin contains sebaceous glands, which are basically known as oil glands. These glands provide the proper hydration levels which are required by your skin by releasing sebum. Sadly, some sebaceous glands can also liberate excess oil, which leads to the hair appearing oily or greasy. To control this problem, it is important to wash your hair very often. Using the right shampoo is more important to get rid of oily skin.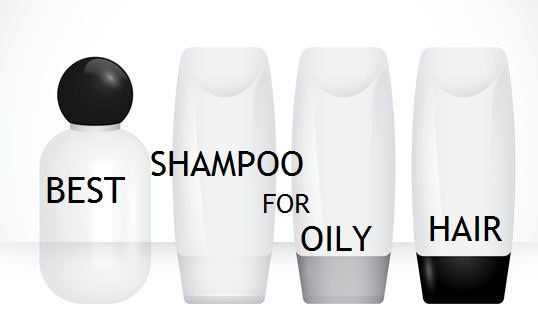 Hair Types:
Hair type also plays an important role when it comes to the causes of the oily hair. Certain types can be more prone to becoming oily scalp than others. Fine hair frequently becomes more greasy than others. If you are not using the right product for your hair then fine hair can also become greasy especially when using conditioners or heavy creams.
Hormones:
Hormones are the actual reason for oil production. High hormone levels release extremely excess oil which can be devastating. It highly happens with oily hair during pregnancy, puberty and while having birth control pills. Hormonal problems in both men and women can cause extra sebum production. If this is the same problem for you then you should consider buying the best shampoo for oily hair that lasts all day.
Your Hair Care Routine:
Personal hair care routine can also play a huge role in oily hair. Extra scrubbing during shampoo can bother the scalp. A bothered scalp causes excess oil production. Brushing hair too much makes the situation worst for oily hair.
It is important to avoid touching or combing hair as much as possible. Especially, when you are preparing or eating any greasy foods, as the oil can be transferred from your fingers to your hair. This is the same situation with oily makeup. Before applying makeup, pinup hair away from face and do not touch it until your hands are clean.
What to Look for in the Best Shampoo for Oily Hair?
With the large variety of products in the market, it can be extremely difficult to select which shampoo is best for oily hair. While searching for the shampoo, search certain generic things in order to achieve the best results.
Look for the shampoo that is formulated specifically for oily hair.

Read the back of the bottle to ensure that shampoo is oil and silicone free. Because they tend to induce more oil production which can lead to building up.

Look for clear shampoo. Because clear shampoos are free from any additional conditioners.

Take a look at ingredients, select the shampoo if that contains citrus extract and stringent herbs as they help break up excess oils.

Investing in a good shampoo can make a drastic difference for your oily hair or scalp as they absorb the excess oils.
Go through the article to get the best information about the best shampoo for oily hair.
List of Best Shampoo for Oily Hair
1.) Neutrogena Anti-Residue Shampoo
If you are looking for an excellent quality shampoo that also fits your pocket, Neutrogena Anti-Residue Shampoo is the ideal choice for you. This shampoo comes in a small bottle that is perfect for anytime traveling.
The product is sold at a great price, but it lasts a long time. This shampoo works well and you have to apply it only once a week. Apply this once a week along with your regular shampoo. It can bring a huge difference for your oily hair. This shampoo results instantly and removes up to 90% of heavy dulling hair and residue. The formula consists of non-irritating and mild ingredients. This clarifying shampoo help removes any buildup on your hair done by styling products,  heavy conditioner or an everyday buildup. This shampoo will leave you soft, refreshed and clean. It will accentuate your hair and will add more volume and texture that you have always wanted, without spending much.
2.) Phytopanama+ Shampoo
Phytopanama+ shampoo is the best shampoo for oily hair. This is a great shampoo to use on an alternate day with a normal shampoo as it really helpful in controlling excess sebum production. This shampoo will give a new shine to the hair by removing extra oil and removing extra sebum from the scalp.
Nourishes oily scalp really nice.

Make hair more manageable and flexible.

Scalp feels lighter and revitalized.

Do not make hair dry nor straw.

Cures itchy scalp.
3.) L'oreal Pure Resource
L'oreal pure resource shampoo cleans hair and restores radiance, give long-lasting shine and make hair manageable. The L'oréal Pure Resource is formulated with vitamin E, which is known for its purified water, anti-oxidant properties, and an anti-hard water agent. It is the best shampoo for oily hair.
A little goes a long way.

Leaves hair soft and smooth.

Gives a nice bounce to hair.

Hair becomes shiny.

Makes hair light weight and more manageable.

Makes scalp clean.

Affordable as a clarifying shampoo.

Beautiful transparent packaging.
4.) Mop Basil Mint Shampoo for Normal to Oily Hair
Eliminate dirt particles, and oil with Mop Basil Mint Shampoo containing extracts of basil, sage, peppermint, and rosemary.
Makes hair fresh and lively.

Makes hair full of healthy shine & bounce.

Basil Mint Shampoo is paraben free.

Lifts away dirt and oil without making hair dry and rough
5.) Desert Essence Shampoo
Desert Essence is the one of the best shampoo for oily hair. This coconut Oil cleanser gently cleanses dry or damaged hair. Organic Jojoba oil nourishes hair and scalp so that hair looks healthier. With the goodness of Organic Olive Oil, it makes hair soft and silky without making it down.
Gives intense moisture to dry or over-processed hair

Smoothes frizzies and help restores hair's natural shine.

Leaves hair feeling soft and healthy.
6.) LUSH Jumping Juniper Solid
It's a solid shampoo and is one of the best shampoo for oily hair. From it's packaging to its fragrance, this product is perfect for any kind of hair. We are very happy to put this shampoo on the list of best shampoo for oily hair.
Travel handy.

Lathers quite well.

Good for oily scalp.

Good for daily use.

Pleasant smell (Sort of very mild citrus plus herbal smell.)

Keep it for at least 2-3 mins so that all the oils in it work on the scalp.
7.) Paul Mitchell Tea Tree Special Shampoo
With the unique combination of tea tree oil, lavender, and peppermint, the shampoo is designed to completely cleanse the oily hair and provide an awesome experience with vibrant and stunning hair. That is why this shampoo is in the list of best oily shampoo for oily hair.
Amazing smell

Cleaner and oil free hair
8.) Head & Shoulders Instant Oil Control Dandruff Shampoo
If you want really best shampoo for oily hair then you should definitely go for head shoulder oil control shampoo. This is the best shampoo for oily hair, made with citrus and mango essence that is gentle and balances pH level on frequent use, even on colored hair too. It is designed especially for oily hair and is highly suitable for chemically treated hair. The shampoo is formulated with mango and citrus extracts.
9.) Opalis Cream Shampoo For Oily Hair
Opalis Cream Shampoo is the best shampoo for oily hair. It is a powerful hair care product, the Opalis Cream Shampoo is made with the essential oils from the natural ingredients. It manages the sebum in the hair and scalp. Its main ingredients are rosemary, thyme and cedar wood that get rid of excess oil.
Suitable for daily use

Prevents the scalp from drying.

Makes hair and roots clear.

Makes hair fresh, lasts for two days.

Gives a beautiful shine

Never makes hair greasy or weighed down

Improves hair health

Hydrates hair

Beautiful fragrance that stays in the hair for some hours
10.) Apivita Balancing Shampoo
Aptivia Propoline is another one of the best and no-nonsense grease oil remover shampoo, power packed with natural ingredients. This shampoo is extremely effective and definitely the stronger contender in the list of best shampoo for oily hair. The ingredients include propolis, Lipoamino acid (reduces sebum build up), peppermint nettle, and natural thyme. It is excellent at reducing the sebum in our scalp glands and is a completely works on natural acid. You can also use this shampoo for hair strengthening.
So for those with damaged hair, it's a perfect solution to your dry and frizzy hair. You only need a few drops from the bottle and it produces an amazing lather.
11.) Herbal Essences Clean Refreshing Shampoo
If you also have hair battles daily morning and you have not find a solution for it, then this herbal essences clean refreshing shampoo will solve your problem. This is one of the trusted and favorite brand of many people. The infusion of tea tree essence cleans the hair from root to top. The antiseptic and antibacterial properties of this shampoo keeps the hair away from all infection. It keeps the hair soft and manageable. The pleasant fragrance of this shampoo is just unforgettable. This is one of the best shampoos for oily hair with a reasonable price.
12.) Honeydew Natural Oily Hair Shampoo
If you don't want to use chemicals on your hair and you are a lover of natural products, then this shampoo is the right choice for you. This shampoo is made from the combination of lavender, yarrow, thyme and rosemary. All these ingredients are unique and 100% natural. This shampoo not only wipes out the dirt from the hair but also offers a lot of volume. It nourishes the hair and keep infections at bay. The added benefit of this shampoo is that it also works well with curly and frizzy hair. This is a suitable shampoo for both men and women.