'Personality is something that is inherited from hairstyle'. And your hairstyle totally depends on your haircut. Don't worry for this you don't have to run to a salon as this article will help all the men in cutting their own hair. In this DIY world where people have no time to waste and each minute is precious it is important to know to cut your own hair. It not only saves your thousand bucks but also your precious time. You can carry your own style and also impress people. If you know to cut hair your own hair you can keep yourself groomed all the time. Cutting your own hair only requires planning, right tools, and the right technique. Later, you can read Mohawk hairstyles for men, Hairstyles for men with thin hair and classy hairstyles for men.
Reasons to Cut Your Own Hair:
One of the main reasons to cut your own hair is convenience. In today's busy world convenience is the king. Instead of spending 1 to 2 hours in a salon you can just cut your hair in 20 minutes.

When you know to cut your own hair you can take your style with you. Whether it is a business meeting or a hot date you can carry your style with you.

You can save a lot of money and can even try new hairstyles.

You can maintain your haircuts if you are well aware of the cutting techniques.

Your cutting skills can impress other people because only a few people know to cut the hair.

It takes less effort so you can maintain your style without spending any bucks.
Easy Ways to Cut Your Own Hair (Men):
Method 1: Basic Preparations Before Cutting Your Own Hair
Follow the steps given below:
Decide the Hairstyle Before Starting the Process:
Before cutting your own hair, you should know the about final look that you want. Mostly people keep the same hairstyle but obviously you can try for some minor changes. For example, whether you want to grow your side burns or eliminate them completely.
Right Tools to Cut Your Own Hair:
You can't reach the terrace if you don't climb the first step. In the same way, you can never get a good haircut if you don't have the right tools. A pair of scissors is not just enough to cut your own hair. A lot more things are required to get a perfect haircut. Here is a list of tools that you need to cut your own hair.
Scissors: Invest in a pair of reliable scissors. A good quality scissor will make you feel that how easy it is to cut your own hair. Buy a pair of small scissors as it minimizes the risk of making big mistakes. It is easy to handle and hence you can cut your hair comfortably. Use sharp scissors as they ensure that the cuts are precise and clean. Using short bladder scissors such as children scissor, cuticle scissor and mustache scissor will be give you efficient and effective results.
Electrical Clippers: A small difference in quality can make your work easier. So it is very necessary to have a good quality electrical clipper. The different designs and variety of clippers will make it easy for you to cut your own hair. Use a cordless clipper to get complete freedom of cutting your own hair.
Fine-tooth Comb: This is another important equipment that you need before cutting your hair. This comb will remove the tangles and make your hair straight. In short, this comb will make your work easier.
Mirror: This is another important tool without which you cannot start your work. You need a large sized mirror to cut your hair without any mistakes.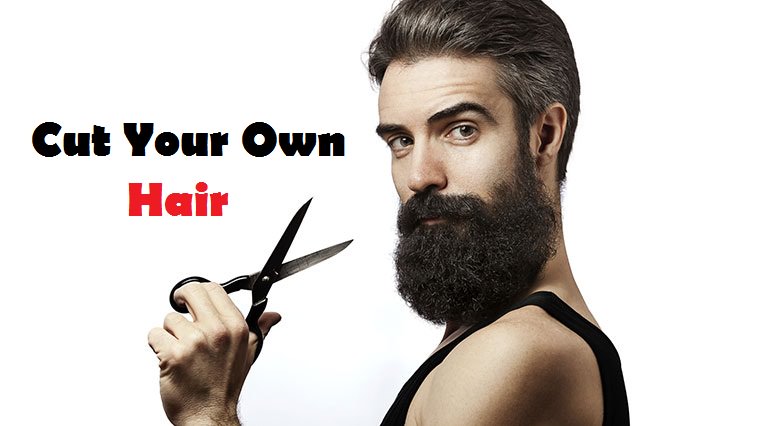 Wet Hair to Cut Your Own hair:
It becomes a lot easier to cut your own hair if they are wet. Hairs that are straight with a blunt edge are easy to cut when they are wet. When the hair is wet you can group the strands together. This will increase the speed of cutting without sacrificing the quality. Since you are cutting your own hair and you do not have an expertise it is better that you cut your hair when they are wet. Either wash your hair before cutting or wet them using a spray bottle.
Divide Your Hair:
It is very necessary to divide the hair into different sections. The reason behind this is that if you divide your hair into different sections it will become a lot easier for you to cut them. Use a comb to divide the hair into three sections. Make a partition at the outside edge of each eyebrow with the help of a comb. Comb that parted hair in a downwards direction towards the ear. This will make another section on the top of your head.
Method 2: Steps to Cut Your Own Hair
With the help of a comb, brush your hair around the ear and temple in a forward direction.

Use your fingers or comb to lift the hair up.

Keep your hair away from the head so that you can cut it easily.

Use your fingers to set the limit for your scissors to cut the hair.

With the help of your scissors, cut the exposed hair. Keep your scissors perpendicular to the comb while cutting the hair. If you will keep the scissors perpendicular you will easily cut more volume of hair without causing any damage. After cutting a few cuts stop to see your progress.

Now you have to cut the hair of the upper section. Use the comb to lift up the hair. Cut the hair in the perpendicular direction from the comb. Check after a few cuts so that you can correct the errors.

Now you have to cut the hairs that are on the top of your head. So raise them with your fingers and a ½ or ¼ inch.

You have to be more careful while cutting the hair on the top of the head as they are noticeable. A few notches can make people think that it is the start of baldness.

After cutting your side hair now it is time to trim the sideburns and the back of your head.

Use an electric clipper or shaver to trim your sideburns. Start the trimming from the bottom of your ears in case you want a long sideburn. For a short sideburn start trimming from the depression that is below your cheekbone. Use your fingers to check the evenness of the sideburns.

With the help of an edging wand or a beard trimmer cut the wings that form on the back of your head.
Final Touches That Will Make You Look a Handsome Chunk:
Clean Up Your Hairline for a Perfect Look:
A hair trimmer will help you to clean your natural hairline and you can even modify it according to your own wish. The only thing that you need to remember is that both the sides should be symmetrical. You can even work with your facial hair. Be a little more careful while making out your arches.
Styling Will Make You Look More Handsome:
If you are going for a shorter haircut, use small amount of gel to add texture and spike up your hair. Men with longer cuts can make their hair stand up with the help of a hair blower. Make sure you are directing the hair blower in an upward direction when the hair is wet. If you want to add more texture, then you can use some styling gel or wax.
Haircuts for Different Face Shapes:
Oval Face Shape: This type of face is evenly balanced so most of the hairstyles look good. But you should a fringe. The reason behind this is that it will cover your forehead, which will make your face look round. You can keep short hair on the side and longer on the top with a side-swept parting.
Square Face Shape: This is an ideal face shape with a perfect jawline. Short sides and back with some texture on the top will look good and will highlight your jawline. Short layers and side partings will give you a classic look.
Round Face Shape: Short sides and back with a quiff make your face look elongated. Avoid fringes otherwise, your face will appear small. Try square corners in the high recession areas of the hair.
Diamond Face Shape: To create a balanced look it is necessary to have more volume on the top. Choose hairstyles that add width at your forehead. If you want to add texture to your forehead, then fringes may work well. Go for long hair that can be tucked behind the ears.
Heart Face Shape: Try hairstyles that are wide at the temples and narrow at the chin. You can try a mid-length swept look.
Triangle Face Shape: This type of face shapes  has narrow foreheads and wide jawlines. A cut that will give more volume on the top and the sides is best.
Oblong Face Shape: Avoid having short hair on the sides. This type of face shape is suitable for most of the haircuts.
Rectangle Face Shape: This type of face shape requires tweaked hairstyle so that the face does not look longer. Neither leave too much length on the top nor keep the sides too short.