Acrylic nails are very famous among the fashioners just because of their custom designs that you can beautify your hands. There are numerous color and design options when it comes to applying acrylic nails. There are many different types of fake nails being used by the ladies around the world but most popular among them are the acrylic nails. These nails are grasped fast to natural nails with glue. When they start coming out or look very thick with too much polish, then it's time to take them off. Learn few methods for removing acrylic nails without hurting your nails. Read this article to get acrylic nails off.
There are many reasons why acrylic nails are preferred other than fake nails. Enhancing your beautiful acrylic nail designs is something you always love to do but getting rid of these acrylic nails isn't that easy. One of the most difficult part with the acrylic nails is to take them off without hurting your nails. In this article, we are going to share few very simple way to get acrylic nails off at your home. 
What are Acrylic Nails?
Acrylic nails are also known as nail extensions or fake nails, are coverings placed over fingernails as fashion accessories. Acrylic nails are made by the plunge of a brush into a liquid which is called monomer and then putting the wet brush in a powder which is called polymer, creating a shield of product that is then placed on the nail bed and fitted into place. The product is allowed to sit for a few minutes before filling, but the fitting process continues for next 48 hours.
What are Acrylic Nails Made of ?
 Acrylic nails are made of a very popular substance Polymethyl methacrylate acrylics. Even this material is a mixture of Monomer and polymer powder. Hence these nails are made by mixing these two powders in a certain amount to get required nails. Once the mixture is made to give a shape of the nails, this is very easy to mold.
Types of Fake Nails:
Fake nails are not only made out of acrylics, there are few other types of a fake nail. Here are the types of fake nails:
Acrylic nails

Shellac nails

Gel nails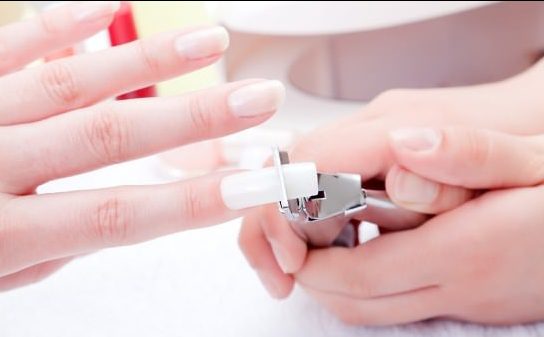 Tips to Get Acrylic Nails Off
Applying acrylic nails is not more than an art. These nails make your hands and nails look beautiful. But at the same time, removing these nails is very difficult and painful. Before using acrylic nails simply read about the whole process of applying and removing of acrylic nails. Because removing them can be a very painful task. Your nails can be hurt. So if you also face problems while removing these artificial nails then read this article and get the tips to get acrylic nails off easily. 
1. Get Acrylic Nails Off with Hot Water
Hot water is something you need to use while you are thinking of removing acrylic nails. Hot water has so many health benefits in addition to getting acrylic nails off. You don't have to visit a professionalist to get these fake nails off. Removing acrylic nails with hot water is very simple. Simply, soak your hand in hot water for a while. Let acrylic nails become softer. Now remove them softly with the help of any nail clipper.
2. Acetone to Get Acrylic Nails Off
If you are searching for the best, effective and affordable trick to remove acrylic nails, then use need to use acetone. Acetone is very effective to remove these fake nails without causing any damage to your nail bed. But make sure that you get the pure acetone, which can easily get your fake nail off.
You will Need:
Acetone

Nail clippers

Bowl

Buffing stick

Petroleum jelly or Moisturizing Cream
Directions:
Cut an aluminum foil in the square shape.

Take the cotton balls wet with the acetone, put it on the nail and wrap it with help of aluminum foil.

Do the same procedure with all the nails and do not open the foil before 20 minutes.

Once the time is over, take any wood stick and pickle the acrylic off.

Basically, it is the correct trick to get acrylic nails off. However, you can do this process more than once in the case if some traces are left.
3. Acrylic Nail Removal Kit to Get Acrylic Nails Off
If you don't want to try home remedies to get acrylic nails, then you must go for the acrylic nail removal kit. You can get this kit from the drug store. These kits include the acetone free nail polish removers which are very effective to remove the nails in a very gentle manner.
Directions:
When you are using this kit to remove the acrylic nails then keeps a paper towels with you to wipe dry your hands off and to remove the nail polish.

After removal, you must apply petroleum jelly to your hands to keep them moisturized and prevent them from drying out.

You will find everything in these kits such as Nail clippers, acetone, small container, Cotton balls, buffing stick and hand cream.
4. Get Acrylic Nails Off with Dental Floss
To try this method, you need another person as a helper because this process can't be done alone. Ask your helper to hold the dental floss and pass it between the real and fake nail from the bottom tip of the nail. Now you have to give action to the dental floss from in an upward position to pull it up in a slow manner. Repeat this activity again and again until the acrylic nails taken off properly. It is the easiest, cheapest and less time method for removing acrylic nails.
5. Get Acrylic Nails Off with Foil Method
This is also very useful and cheapest way to get acrylic nails off. Using a foil will not hurt your nails and hand.
You will Need:
A nail polish remover

Paper towel

Aluminum soil

Cotton balls

Nail clipper
Directions:
1st, damp the cotton ball with the nail polish remover and put it on all fingers.

After that cover your all fingers with the aluminum soil.

Wait for 20 minutes and then remove it. You will be able to see that while you are removing the aluminum foil, acrylic nails will be removed automatically.

This is one of the easiest methods to get acrylic nails off.

If your nails break quickly or their growth is very slow, then you can use acrylic nails. But provide maximum protection to nails while using acrylic nails. Knowing about how to get them off is also very important.
Here are Some Pros About Acrylic Nails:
You can fix an almost broken nail by yourself at home.

The removal process is very simple when performed by a professional.

These nails are very strong. When a proper care is taken, they can last a long time.

Acrylic nail application is less costly than gel nail application.
Here are Few Negatives Points About of Acrylic Nails:
Acrylic nails can damage nail bed, and this damage can create a developing ground for fungus and bacteria.

They can look less natural than gel nails when applied incorrectly.

The application process requires very strong chemicals and fumes so pregnant women are advised not to use these fake nails during pregnancy.