This is the most common injury that happens when someone gets hit with a hard object like a ball or get punched by someone, which create bruising to the tissue around the eyes. It is similar to like bruises. This injury is called black eyes due to dark-hued of bruises. It mostly appears due to accidents like falling somewhere or if someone punched you. The area around the eye turns into bluish and purple shade due to blood get trapped inside the skin, which is leaked by the ruptured blood vessels. Black eyes can trigger pain, swelling, headache and blurry vision, which take 14 days to go. But in this article, you will the best ways to get rid of a black eye faster and easily.
A black eye is also bruising around the eye because injury on the face rather than eye which is so painful and extremely intolerable. A name is given due to the shade of bruises around the eyes because blood vessels get ruptured and leak inside the skin rather than outside, means bleeding under the skin and around the eyes, not on the eye. It gets worse if the bruised area is not cured in one month than it can become extensive injury or skull fracture if the area suffered from any prior injury. It can make blur vision and also damaged the eye cornea. The high blood pressure can also cause a black eye.
Causes of a Black Eye:
When you met with injury.
Facelift cause the black eye.
When you undergone to cosmetic surgery or jaw surgery.
Bug bites also cause a black eye.
Skin and allergic infection around the eye.
Symptoms of a Black Eye.
Swelling of the surrounded area of eyes.
Pain around the eyes.
When you notice different color around the eyes like the bluish, purple or greenish color.
Blurred vision.
Extremely difficult to move the eyes.
Headache
Best Ways to Get Rid of a Black Eye
Extreme pain makes you difficult to open the eye, if you want instant relief to get rid of black eyes then here are best ways to get rid of black eyes.
Ice Cold Compress to Get Rid of a Black Eyes
Ice cold compress is a very effective remedy which gives immediate relief from pain. It tightens the blood vessels and also prevents further bleeding. It reduces the swelling and speeds up the recovery process.
To get rid of black eyes, Take some ice cubes and wrap it in cloth and hold it on the affected area for 10 minutes. Repeat this remedy till 48 hours to avoid the blood leakage in beneath the skin.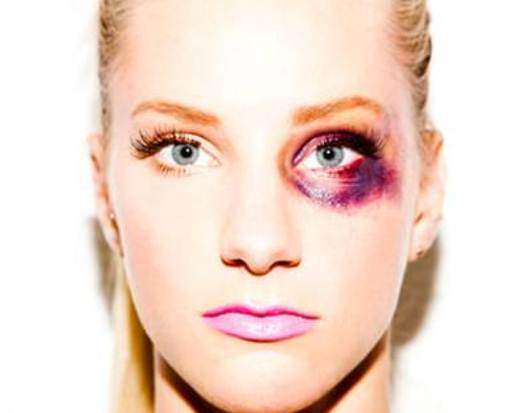 Warm Compress to Heal a Black Eye
After one- two days, you need to apply the warm compress. This will help in increase the blood flow to the affected blood tissues and heal the process.
Dip the clean water and let it absorb the warm water, squeeze the excess water. Put the warm cloth on affected areas and hold it until the warm cloth get cool. Repeat this remedy to get rid of a black eye. It doesn't trigger pain, you can also do a message to prevent a black eye and this also removes dried blood accumulated when the blood vessels break.
Vitamin C to Treat a Black Eye
Vitamin C repairs the blood vessel and avoid bleeding. It is not only important for the injury but also good for health. Some people are more prone to bruises because of the deficiency of vitamin C without any involvement of injuries. If don't consume vitamin, the blood vessels become so thin and there is still chances of getting ruptured even with slightest pressure. So if you want to get rid of a black eye eat more vitamin C for a better result.
Vitamin foods like oranges, lemon chili peppers, red and green bell pepper, broccoli, mango, guava, pineapple, strawberries, cauliflowers and sprouts which are full of vitamin c and helps to get rid of a black eye.
Arnica Herb to Get Rid of a Black Eye
This the one of the best way to cure a black eye as it has been used to cure bruises pain, swelling, inflammation and muscle soreness which is also very effective in curing a black eye. It has anti-inflammatory properties as it activates the white blood cells that prevent the infection and helps to get rid of the foreign particle by eliminating it from the body which creates blood clotting and inflammation to get rid of a black eye. You can also purchase the cream which contains arnica that helps in curing the bruises and pain.
You need to make infuse oil to get rid of a black eye. Place the arnica herb in the jar and pour some oil in it. Keep shaking the jar for six weeks and after six weeks strain the oil. Keep the oil in double boiler and add beeswax to thicken the oil by melting the beeswax. Mix the essential wintergreen oil to the arnica oil and keep it in the container to cool down, start using the oil on affected area to get rid of a black eye.
Hazel to Reduce a Black Eye
Hazel plant to soothe and heal a black eye. It is used for the medical purpose and cure sores, bruises and swelling. Hazel reduce the inflammation and pain caused by a black eye. It also help in tightening the blood vessels which is get ruptured during the injury to get rid of a black eye.
To get rid of a black eye, take 10 drops of hazel extract and mix with 100 ml of water. Use a cotton swab to get absorb the mixture, squeeze the cotton to remove excess solution. Directly apply the solution on the surrounded area. Leave it for 5 minutes and repeat this twice in the day to get rid of a black eye.
Comfrey Roots to Heal a Black Eye
Herbalists use the comfrey roots extract for many treatments and also help in get rid of a black eye. These specials herbs contain molecule allantoin, which use to repair the damage caused by a black eye. It activates the cell growth and repair the skin and also reduces the inflammation.
Make a paste of comfrey roots and mixed well. Apply this paste on eye surrounded area and leave it for 5 minutes then wash off. Do this remedy once in a day. Do not repeat this remedy more than one time and do not leave the comfrey roots on the skin because it can be toxic for your skin. Please do not ingest comfrey roots.
Massage to Reduce a Black Eye
Massaging the skin with an essential oil will help in reducing the inflammation caused by a black eye. It is very effective as massaging the area not only improves the blood circulation but also best for your skin. Poor blood circulation doesn't heal the wounds and blood vessels. Give a massage to affected area gently, do not press the area because your skin is still sensitive. You can give massage twice in a day.
Here is some amazing oil to get rid of a black eye and  you can  give oil massage with this oil.
Olive oil.
Coconut oil.
Tea tree oil.
Vitamin E oil.
Vitamin K to Getting Rid of a Black Eye
It works as an antioxidant which helps to improve the blood circulation also check the internal bleeding caused by black eyes. Studies have shown that vitamin k helps in reducing pigments and repaired the blood vessels. It also repairs the damaged capillaries of eyes and skin excellently. This includes lots of food which is very high in vitamin k.
There are many foods which are high in vitamin k to get rid of a black eye like dark leafy green like kale, dandelion greens, mustard greens, spinach, cress, beet green sweet chard, and lettuce. Other food like broccoli, cucumber, prunes, asparagus, chili powder, curry and paprika to get rid of a black eye.