Gingivitis is a mild infection of the gums. Anyone can suffer from gingivitis and many people are not even aware that they have gingivitis. It's a common symptom include irritation, swelling, redness, and puffiness on the gums. Other symptoms include bad breath, receding gums, loose teeth, and gums that become tender and bleed, especially while brushing or flossing. The major cause of gingivitis is poor oral hygiene, which allows plaque to form on the teeth. Plaque is an invisible, sticky shield made up of bacteria that can affect the gums as well as the teeth. In this article, we will give you tips to get rid of gingivitis.
What is Gingivitis?
Gingivitis is a gum infection is caused due to a bacterial infection. When bacteria spread in your gums and you may suffer from gingivitis. This bacteria is the common plaque made up of bacteria, mucus and food particles that are not cleaned properly. If you regularly brush your teeth then you are saved against this plaque. If you don't do so, you are at a risk of developing gingivitis. When you don't brush your teeth for two or more days the bacteria starts building a wall between your teeth and gum tissue which is commonly known as tartar. The first signs of gingivitis include red swollen and bleeding gums and teeth.
Symptoms of Gingivitis:
The clearest and visible gingivitis symptoms include inflamed, red gums that bleed easily. Feeling pain in gums is an unusual sign of gingivitis. You won't feel pain until your gingivitis becomes quite old or may feel it. Here is the list of some distinctive signs of gingivitis
Inflamed, redness and bleeding gums.

Soft gums

Receding gums.

Inflammation in gums.

Bleeding gums.

Reddened gums.

Bad breath.

Sore gums.
Best Remedies to Get Rid of Gingivitis
1. Turmeric Paste to Get Rid of Gingivitis
Turmeric is a herb with healing properties. It is very effective to get rid of gingivitis.
Ingredients:
Turmeric- one tablespoon

Mustard oil- half tablespoon

Salt- half tablespoon
How to Use:
Make a fine paste by mixing all the ingredients.

Apply this paste on the gums and teeth

Use this mixture twice a day for healthy teeth and gums.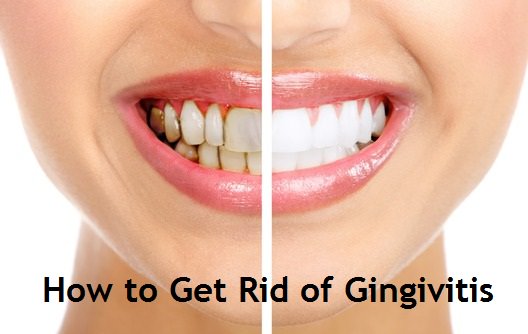 2. Herb Mouthwash to Get Rid of Gingivitis
Another remedy to get rid of gingivitis is a herb mouthwash. Herbs like sage, turmeric etc can be beneficial to the gums. Whereas rosemary can help fight against bad breath. Make on your own an alcohol-free mouthwash with rosemary.
Ingredients:
Rosemary- 4 ounces

Mason jar

Water- 2 cups
How to Use:
Put four ounces of rosemary in two cups of boiling water.

Let it brew steep overnight.

Strain the rest out in the morning and remove the plant material from the mouthwash. Wash your mouth like a regular mouthwash.
3. Sage Leaf Decoction to Get Rid of Gingivitis
Sage is an old traditional remedy for gums diseases and gingivitis. It has properties of antioxidant, anti-inflammatory, antimicrobial and antioxidant because of that, sage is perfect to get rid of gingivitis,
Ingredients:
How to Use:
Boil sage leaves in some distilled water.

Now gargle with this solution several times a day.

You can also make sage tea.
4. Garlic and Turmeric Paste to Get Rid of Gingivitis
Garlic and turmeric both have anti-bacterial and anti-inflammatory properties. Which make them perfect for healing gum diseases like gingivitis.
Ingredients:
Garlic- 2 cloves

Turmeric- half tablespoon
How to Use:
Make a paste of garlic and turmeric.

Apply this paste on teeth and gums with the help of brush or fingers.

Leave it for several minutes.

Wash it off with water.
5. Oil Pulling to Get Rid of Gingivitis
This traditional method was made for overall oral care. There is nothing better then oil pulling to get rid of gingivitis. Oil pulling  pulls toxins out of mouth and gums. It stops plaque build up and is very effective. Just use 100% organic oil like sesame, olive, or coconut. Take a little amount of one of the organic oil and swish oil all around in your mouth for several minutes.
6. Mustard Oil to Get Rid of Gingivitis
Mustard oil has been used for hundreds of years to fight against bad dental hygiene. It kills the bacteria in the mouth and cures the gums very fast. Mustard oil has pain-reducing qualities along with being anti-bacterial and anti-microbial.
7. Aloe Vera Gel to Get Rid of Gingivitis
With anti-inflammatory properties, aloe vera is very helpful to get rid of gingivitis. Aloe vera is very effective for gums are red and inflamed.
8. Hydrogen Peroxide to Get Rid of Gingivitis
Hydrogen peroxide can help kill germs and fight oral problems. It can also help reduce inflammation and pain due to gingivitis. Use 3% hydrogen peroxide solution for overall oral health.
Ingredients:
How to Use:
Mix 3 percent hydrogen peroxide solution and water equally.

Swish the solution in your mouth around gums and teeth for 30 seconds. Wash it off with warm water.
Or
Mix 1 teaspoon of baking soda with hydrogen peroxide to form a paste.

Rub this paste o gums, leave it for 1 minute and then wash your mouth completely with water.
9. Black Tea Bags to Get Rid of Gingivitis
Black tea has tannins that can help lessen inflammation of the gums. Plus, its antioxidant properties aids good oral health.
How to Use:
Boil a tea bag in water for 2 to 3 minutes.

Separate it and allow it to cool to a bearable temperature.

Put the tea bag on the affected area of your gums for 10 to 15 minutes.

Wash your mouth with a warm salt-water solution.

Repeat once daily for a few days.
10. Tea Tree Oil to Get Rid of Gingivitis
With its antibiotic and anti-inflammatory properties. Tea tree oil provides quick relief from irritated and inflamed gums.
How to Use:
Make a mixture of a few drops of tea tree oil in a glass of warm water.

Use this water solution as a mouthwash two times a day.

Brush teeth with toothpaste containing tea tree oil as the main ingredient to cure discomfort.

Follow these remedies daily until your gums look healthy again.
11. Clove Oil to Get Rid of Gingivitis
Clove oil is the most effective treatments to get rid of gingivitis and other gum diseases.
How to Use:
Rub the gums with clove oil daily.

Or just chew a piece of clove. Remember, you can feel a burning sensation but this will cure the disease.
12. Using Baking Soda to Get Rid of Gingivitis
Baking soda is another one of the easiest home remedies to get rid of gingivitis.
How to Use:
Sprinkle baking soda on your brush and brush your teeth normally.

You can do this by using toothpaste

Or make a solution of baking soda and water.

Use it this solution as a mouthwash.
Few Additional Tips for Healthy Teeth and Gums:
Brush and floss daily, especially after meals.

Don't brush too roughly as it can irritate gum.

Replace your toothbrush after every three months.

Use only soft-bristled toothbrushes.

Make a distance from very hot or very cold food and beverages.

Stay away from tobacco products and alcohol as they can worsen the swelling.

Drink enough of water throughout the day to stimulate the production of saliva, that naturally helps kill bacteria.

Reduce stress as it may worsen your condition.

Visit the dentist at least once in every six months for a dental checkup.