'Makeup is the self-confidence that is applied directly to the face'. It will make you look resplendent and will make you the limelight. You just need a perfect makeup kit which will give you a glamorous look in just 30 to 40 minutes. In this article, you will read some easy tricks to do makeup.
Reasons to Wear Makeup:
Enhances your personality.
Boost confidence.
Protection of the skin.
A good cleansing routine.
Gives you a transformed look.
Changes your mood.
A chance to show your personal style.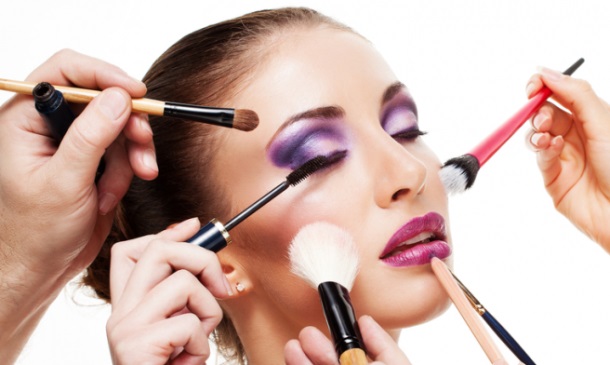 Easy Tricks to do Makeup
1. Make Your Skin Flexible by Perfecting it:
To make your skin look graceful and flexible clean it to gently exfoliate your face. It will clean all the dirt and will unclog the pores. Try to remove the blackheads, whiteheads and dead skin cells from your face.
Steps:
Take a clean cotton ball.
Dip it in a milk cleanser.
Gently massage it on your face.
Do it in circular motions.
Keep massaging it for about 5 minutes.
Wash your face with cold water.
Apply a good moisturiser (you can use Lakme products).
Now your skin is ready to blend easily.
Points to Remember While Choosing a Moisturizer:
If your skin is dry and sensitive then use a thick moisturizer for locking the moisture.
For an oily skin use a water based lotion.
If you have a normal skin then choose a hydrating moisturizer.
2. Foundation for a Polished and Uneven Skin:
Foundation is the base to do makeup. It provides you with an even tone skin and protects it from drying the sun or the wind.
Types of Foundations:
Oil Based Liquid Foundations:  These are easy to apply and are suited for most skin types. Oil based foundations work well with women having extremely dry skin.
Water Based Liquid Foundations: These foundations do not require any effort and blend easily with the skin. They give a light coverage and when applies to skin it leaves a small amount of shine.
Cream Foundations: Women with extra dry skin can opt this. They have good moisturising properties and is easily portable.
Cake foundations: This works best for an oily skin. It covers the blemishes and scars. It can especially be used for photography sessions.
Spray Foundations: This type of foundation helps to make your makeup look fresh at any time. It comes in different colors for different skin tones.
Steps:
Select a color that will seem close to your natural skin. Generally yellow looks natural with all types of skin.
Applying the foundation dot to dot can leave spots and streaks. Take a foundation in your palm, warm it and apply directly on the skin.
Spread it and make it even either by using your fingers or a sponge.
3. Concealer to Do Makeup:
Concealer works best to hide the discoloration the skin under the eye. It not only hides blemishes but also make a base for applying eye shadow. If eye shadow is applied directly it takes a lot of time to blend with the skin and is not long lasting.
Steps:
Use a yellow colored concealer that is one shade lighter to your skin as it will brighten the whole area.
Use your concealer brush to draw an upside down triangle starting from  the inner corner of the eye to the outer corner. This will help to pop out your eyes.
Using your finger to gently blend the concealer into your skin.
4. Face Powder to 

Minimise

 Small Imperfections:
Face powder sets up your makeup giving you a flawless look. It prevents the skin from getting oily or too shiny.
Steps:
Match the color with your skin tone.
Try it on your hand first.
Take one shade darker than your skin if you plan to go in the sun. White powder is good for the evening.
Don't miss spots like eyes and lips.
Blend it into your skin to make it look more natural.
5. Bronzer and Blush to Do Makeup:
Bronzer helps to even your skin tone perfectly. Follow the steps given below to use bronzer:
Steps:
Use a brush with soft and small bristles.
Apply the bronzer in the sweeping motion. Start it from the corner of your mouth and take it towards the cheek.
Apply it to the forehead.
Smoothly blend it to make sure that your skin tone looks even.
Blush to Contour Your Cheek Bones:
Blush makes your cheeks look gorgeous. It gives natural glow and add contours to your face. Follow these steps to apply the blush perfectly.
Steps:
Select a blush according to your skin tone.
Smile before applying the blush.
Apply the blush evenly in the dent of your cheeks.
6. Eyebrow to Lift up Your Face:
Follow the steps given below:
Steps:
Select a brow pencil according to your skin tone.
Make a thin line on the upper portion of the eyebrow.
7. Eye Shadow to Do Makeup:
A good eye shadow has the ability to make a dramatic and powerful statement. It can make your eyes look sophisticated and beautiful.
Decide the color: While deciding the color of the eyeshadow keeps in mind the color of your eyes. For example, if your eye color is green then violet eye shadow will work best to pop out your eyes. Similarly, for blue and brown eyes a bronze and gold color eye shadow will do wonders.
Use an Eye Primer: An eye primer will make your skin smooth and the eye shadow will last for a long time. If you have an oily skin it will keep the oils away. A silver primer is a good choice for a fair skin. If you have a medium skin tone then a golden primer will work best. Color the base with a white crayon before applying the eye shadow.
A variety of Brushes: Use a dense brush for applying pigment and a light brush for blending and highlighting.
8. Eye Liner for Enhancing Your Eyes:
Eye liner gives your eyes and face a fresh look. If you are tired or did not sleep properly then eye liner will cover it all. It will make your eyes look more firmer and beautiful.
Steps:
Apply an eyeliner on the upper lashline beginning from inner edges and ending on the outer edges.
Close your eyes and keep them tight to draw a straight line.
You can use a brush to smudge the thicker line to make it softer.
Pull down your lower lid and with the pencil gently go over your waterline.
Lift up your upper lid and by looking down in the mirror apply the eyeliner in little strokes.
With your eye pencil scribble a line on the upper lid from inner edges to the outer edges. Do the same thing with the lower lid. Connect both the lines to the outer edges and use a brush to smudge it to give a smoky look.
9. Mascara to Do Makeup:
Mascara can make a difference to the whole face. It makes your eyes look bigger and attention grabbing. It is the finishing touch to the eye makeup. Mascara increases the confidence and the right one can help you to express yourself.
Steps:
After applying the foundation concealer and eyeliner now is the time for mascara.
Place the mascara wand on the edge of the eyelashes and bring the wand to the end of the eyelashes. Do this in a way that the eyelashes look separated.
Take a mascara comb and pull the eyelashes upwards.  Do this before the mascara dries otherwise it will fall off.
Now run the mascara wand along the upper and lower eyelashes to give a slight color.
10. Perfect Lip Makeup:
Moist and shining lips make you look ravishing. No one likes cracked and unmaintained lips. Lip is an important part of your face and it determines your personality and look. Try these steps to do the perfect lip makeup.
Steps :
If your lips are cracked or there are dead cells then use a lip scrub to clean them. Do this for 2 to 3 minutes.
Apply a lip balm to moisturise the lips and get rid of dryness.
Take a lip pencil to outline. Start from the center of the upper lip and make sure you cover the corners. Do the same thing with the lower lip.
Later on, you can fill the full lip with lip pencil as it will be a good base and the lipstick will stay for long.
Apply the lipstick using a lip brush. Smear short strokes and fill the lips completely.
Spread lip gloss from the center of the lips and avoid applying on the lip line.