Losing weight is the only game where you win when you lose. But this loss is good for not only losing weight but also for your overall health. In this article, you will come across some easy tricks to lose a pound a day. So if you want to look resplendent in any outfit or you want everyone to look at you at that grand event then follow these tricks to shed those extra pounds.
Easy Tricks to Lose a Pound a Day
1. Diet Plan to Lose a Pound a Day:
This diet plan includes low calorie, low carb, and high protein. When we are talking about carbohydrates it does not mean you can have a packet of chips. It only includes good carbohydrates such as fruits, vegetables, beans and whole grains. There are two phases of this diet plan. The first phase can be a little difficult for you as you have to stick to your diet plan to lose a pound a day. Phase two is the maintenance phase in which you will follow the healthy eating habits.
Benefits of This Diet Plan:
The antioxidant and high fiber foods will remove the toxins from the body. This is not only good for losing weight but also for your overall health.
There are certain foods  included in this diet plan will rejuvenate your body. This will, in turn, make you look younger and healthier.
This diet plan will also help you to get rid of high blood pressure and high sugar.
The food items selected in this diet plan will stimulate the growth of good bacteria which is good for your total well being. You can try this sample diet plan of one week to lose a pound a day.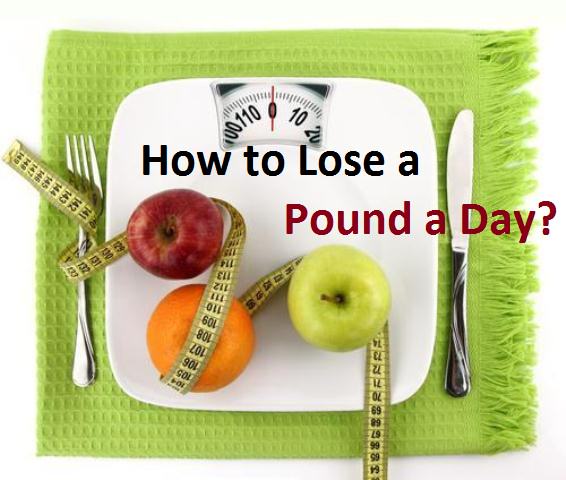 Day 1: Monday
Breakfast: You have a variety of choices ranging from cooked oats to fruits like apples and grapes. Have a cup of green tea to refresh yourself.
Lunch: You can serve yourself with a vegetable platter. Don't fry the vegetables, steam them. You can also have a boiled potato. Consume the potato with a splash of balsamic vinegar.
Dinner: Choose between a bowl of spinach soup and glass of grape juice. Serve yourself a platter of steamed broccoli and boiled potato. You can use vinegar to dress your platter.
Day 2: Tuesday
Breakfast: You can have fruits like apple or pear with a  bowl of yogurt. Don't forget to drink the green tea to refresh yourself.
Lunch: Decorate your plate with small pieces of raw vegetables. Don't forget to include carrots and Beetroots. Use vinegar to dress them.
Dinner: In 2 tablespoons of olive oil roast 100 grams of butternut squash and sweet potato. Add one cup of spinach.
Day 3: Wednesday
You can follow the diet of the of day 1.
Day 4: Thursday
Breakfast: Have a pot of soy yogurt with apple. You can also have soaked oats with a cup of green tea.
Lunch: Consume rye crisped bread topped with olive oil. Serve yourself a platter of steamed vegetables.
Dinner: Shred some cabbage and eat it with steamed Brussels. You can also eat basmati rice and sliced sweet potato.
Day 5: Friday
Breakfast: Eat a date with cooked oats. You can also consume organic white bread or a banana.
Lunch: Sprinkle some sunflower seeds on your steamed vegetables. You can also eat crisp rye bread coated with olive oil.
Dinner: Serve yourself a large portion of steamed broccoli and spinach soup.
Day 6: Saturday
Breakfast: Consume a pear or apple with a cup of soy yogurt.
Lunch: Add chunks of apple or grapes in plain yogurt. You can also eat steamed vegetables.
Dinner: Make a roasted mix veg for yourself and serve it with a bowl of spinach soup.
Day 7: Sunday
Breakfast: Start your day with boiled eggs and some Brazil nuts.
Lunch: You can eat the same lunch that you have eaten on day 6.
Dinner: Consume cottage cheese and steamed vegetables with a bowl of spinach soup.
2. Keep Fit to Lose a Pound a Day:
Exercise is not only good to lose a pound a day, but is also a good for your physical and mental health. It can help you to stay more fit and happy. It keeps you away from all health ailments and is a stress buster. If you want to lose a pound a day by doing exercise it is necessary to burn at least  500 calories per day. Here are some things you can try to keep fit.
Walk as much as possible.
Instead of using a lift, climb the stairs.
Take up a new sport like cycling or swimming.
Go for some aerobic exercises like cycling, running and jogging.
Try some weight lifting.
3. Fluids to Lose a Pound a Day:
Liquid helps you to trim your waistline by reducing the calories. It will increase metabolism, thus making your body burn calories faster. This is a simple method to lose a pound a day. Here are two most common fluids that will help you to get slimmer.
Water: Drinking water is the first step to losing weight. If you will not climb the first step you cannot reach your destination. Gulping 8 to 10 glasses of water increases your calorie burn rate. It will make you feel fuller which in turn will reduce your appetite. Your calorie intake will decrease as this is a low-calorie liquid.
Green Tea: This tea is well known for its therapeutic benefits. It contains an active component called epigallocatechin gallate or EGCG, which has magical powers. The EGCG increase fat oxidation and boost metabolism. It also increases the excretion of fats. It is a good choice to inhibit the fat cell development.
4. Manage Your Calorie Intake to Lose Weight:
This is one of the most simple ways to lose a pound a day. You just have to manage your calorie intake. Calories are a unit that measures the energy content of food. You should eat 1500 calories per day to lose a pound a day. Here is a list of ways which can help you to reduce your calorie intake.
Best Ways to Reduce Calorie Intake:
Eat a lot of protein to reduce calorie intake. This will boost your metabolism, which in turn will help you to lose weight. It also cuts your cravings.
Don't depend too much on fruit juices or sugary drinks.
Gulp down lots of water to reduce your calorie intake.
Consume good carbohydrates that include whole grains, beans, and vegetables.
Go for some weight lifting to reduce your calorie intake.
5. Fast 5 Diet to Lose a Pound a Day:
Fast 5 is actually a lifestyle that is created by Dr. Bert Herring in which he has told an amazing way of eating. So readers smile as you don't have to diet anymore. He has set an eating time. In this fast five diet, you can eat only during those 5 hours and the rest of the time you don't have to eat anything.
How Does This Work?
Select the five hours of the day in which you have to eat and stick to that. When you are doing this your body puts itself in a fat burning state. Now when your body is in the fasting state the insulin and leptin levels in your body fall to the baseline level and stay there for a long period of time. Due to this, your body starts using these fat stores.
The best part of this diet is that you don't have to count your food or do any sought of dieting or planning. You can eat anything you want in those five hours.
Is this Diet Safe?
The idea of starving oneself to lose a pound a day is for sure an unsafe method. But this change in lifestyle is for sure good. The reason behind this is that you do not enforce yourself to starvation and consume as much food as you want. You should consult your doctor before ringing changes to your lifestyle. This diet is not recommended for diabetics.