Are you dreaming of getting a chiseled jawline and high cheekbones? If yes, then read our article to discover some of the natural ways to lose weight in your face. Chubby cheeks are not bad, but for sure they do not fit the media's preferred image. So try these ways to get a leaner and thinner overall face. Losing weight is a task that needs continuous efforts and determination. But you will find all this worth once you lose facial fat.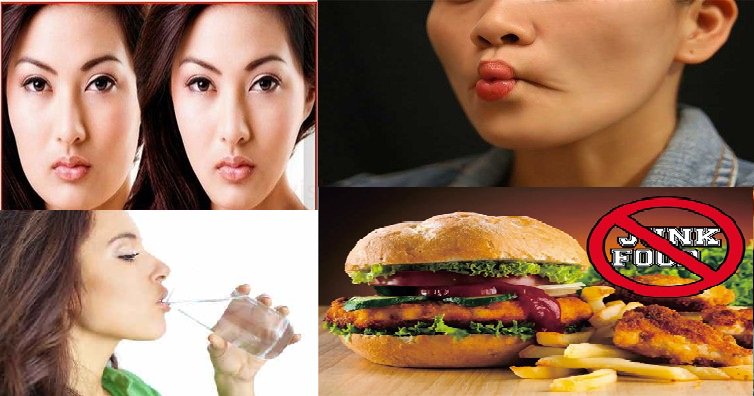 Natural Ways to Lose Weight in Your Face:
1.) Facial Exercises to Lose Weight in Your Face:
Fish Face: This is one of the best exercises to lose weight in your face. The best part of this exercise is that there is no time barrier. You can do this exercise anywhere while doing any sought of work. Fish face tones your cheek muscles.
Chin Lifts: If you want to get rid of a double chin, then this is the best exercise for you. It tones and stretches your jaw, neck and cheek muscles.
Blowing Air Exercise: This is an effective exercise to reduce cheek flab. Blow air exercise will also help you to get rid of a double chin. It gives you a leaner appearance by toning the cheek, jaw and neck muscles.
Jaw Release: This exercise will make you look attractive. If you want high cheekbones and perfect jawline then this exercise is a perfect choice.  It stretches and tones the muscles around the cheeks, jaws, and neck.
2.) Makeup to Lose Face Fat:
We all know that makeup is done to enhance the natural beauty. So why not use it to highlight your cheekbones, so that your face looks slimmer. If you have to attend a grand event tomorrow and you want a perfect jaw line and a slimmer face,  then no matter what you do, you cannot lose that accumulated fat on the face in just one day. Makeup is the best choice to make your face appear slimmer. You will be amazed to see the illusion of a slimmer face.
Steps to Create an Illusion of a Slimmer Face:
Remember your makeup should not look too cakey. So it is better that you use a medium coverage foundation.
After setting the base, select a bronzer with a darker shade to create an illusion of slimmer nose.
Spread the bronzer below the jaw line and cheeks. Cover the temples.
Apply a concealer on the areas where you have already applied the bronzer.
Highlight your cupid's bow and T-zone with a highlighter. Highlighting your T-zone will make your face look slimmer.
Arch your eyebrows and make sure they are not too low in the end.
Make sure your eyeliner flicks on the outer corner of the upper lid.
Do your lip makeup using lipstick, lip liner and gloss.
3.) Facial Massage to Lose Weight in Your Face:
Regular facial massages can help you to lose weight in your face. It improves the blood circulation and tightens the sagging skin. Facial massage tones your face and reduces double chin. Here are some easy steps to give yourself a facial massage.
Mix one tablespoon of wheat germ oil, olive oil, and cocoa butter.
Use this paste to give yourself a massage. Start from the chin and move towards the cheeks.
You can just use cucumber slices to massage your face.
4.) Hairstyles and Haircuts for Losing Facial Weight:
If you like changes and want one, then a haircut or a different hairstyle is the best option for you. You will be surprised to know that a different haircut or a hairstyle can give you the appearance of a slimmer face. Here is a list of some haircuts and hairstyle that you should try once to experience the amazing results.
Side Fringes: Fringes all around the face will hide your cheek fat and will make your neck look longer.
Asymmetrical Bangs: In Asymmetrical bangs, bangs on one side of the forehead are longer than the bangs on the other side. Make sure that to add fringes on the shorter bangs right from the cheek till the chin.
Side Ponytail: This hairstyle will hide your cheek flab instantly. You just need to tie a low side ponytail and keep the hair on the other side a little loose.
Side Partition: A mid parting makes your cheeks look more chubby. Go for a side parting to make your face appear longer and slimmer.
Long Hair: This is the most natural way of enhancing beauty. It easily grabs attention and makes your neck look longer and hence your face appears slimmer.
5.) Consume Healthy Food  to Lose Weight in Your Face:
What is the point of doing all the facial exercise if you are not eating healthy food? Eating a balanced and healthy diet will not only help you lose weight in your face but from all over the body. Binge on fresh fruits and vegetables. Try to avoid preserved foods as they contain a large amount of sugar, salt, and preservatives that lead to facial weight. Elimination of toxins from the body is very necessary in  order to lose weight. For this eat vegetables that are rich in fiber. These vegetables will also fill your body with all the essential vitamins and nutrients. Eat small, regular and frequent meals. This will speed u your metabolism, which in turn aids in weight loss.
Another big reason behind facial fat is the unhealthy carbohydrates, which lead to bloating. Consume freshly prepared home cooked foods. This way you can minimize the salt and unhealthy carbohydrates. Instead of eating cookies and biscuits you can have nuts, coconut, peanuts , and dates.  Consume a lot of fruit and vegetable salad. Avoid eating packed and processed foods.
6.) Gulp Down Lots of Water:
This universal solvent has the power to remove the harmful toxins from the body in the form of sweat. Lack of water in the body leads to dehydration,which is an important cause of facial fat. Gulp down at least 8 glasses of water per day to keep yourself hydrated and full. Eat water-based fruits and vegetables such as tomatoes, cucumber, and watermelon. Drinking plenty of water will prevent water retention and hence will save you from that bloated appearance. This is one of the best ways to lose weight in your face.
7.) Say No to Alcohol:
Too much alcohol makes your face puffy and fat. The reason behind this is the dehydration caused by alcohol. Alcohol leads to water retention due to which your face looks fat. You can have a little wine but in order to lose facial weight, it is necessary to cut down your alcohol consumption.
8.) Minimize Your Salt Intake:
 You all know that most of the weight in our body is water weight. When you consume a lot of salt your body tries to dilute it with a large quantity of water. This, in turn, leads to water retention due to which your face looks fat. Excessive salt consumption also leads to serious health issues such as heart stroke, hypertension or kidney stones. Here are some ways to reduce your salt intake.
Avoid processed foods as they are loaded with salt.
Have natural diuretics such as cabbage and cranberry juice.
Consume potassium-rich foods such as spinach, carrots, and bananas. Potassium balances the sodium level in our body.
Flush out the excessive sodium by gulping down a lot of water.
Don't sprinkle salt on every food item.
9.) A lot of Rest to Lose Weight in Your Face:
Puffy eyes, saggy skin, wrinkles, dark circles and fine lines can make your face look aged and fat. One of the main causes behind these problems is insufficient sleep. A lot of rest is very necessary to lose weight in your face. Avoid stress as it can lead to bloated face and body. Try to set a sleeping routine. Do some meditation for calming the nerves. Take short breaks during long hours of work.
10.) Right Clothing and Accessories to Hide the Facial Weight:
If you want to hide your chubby and flabby cheeks, then the best option for you is the V-neck shirts. Avoid wearing T-shirts having round neck or collars. You can wear a shrug or carry a scarf on the V-neck T-shirts. Try to wear long and slim earrings and wear a neck piece that comes down till your chest. If you want to wear shades, then a shade with a rectangular frame will be best for you. Don't wear chunky r medium sunglasses. Wide and small glasses will make your face appear bigger.