After writing about how to get rid of chapped lips naturally?, how to lighten dark lips?, and how to shrink pores?, Here is another article on how to make your lips bigger? In this article, we will be discussing various tips and tricks to make your lips bigger. Today, getting fuller and smoother lips is on the top of every girl's beauty wish list. So, moving forward the first and the most important tip to get fuller, smoother and healthier lips is to take proper care of them. The skin of our lips is 10 times more sensitive than our face so, the care also multiplies its number.
Every girl wants to achieve the Angelina Jolie pout, but, we all have been naturally gifted a pair with different shapes and sizes. One should be satisfied with it because external beauty is not what actually matter but, the inner soul wins the heart. Above all that there are many, who transform their natural beauty in order to achieve perfect shapes and sizes using artificial treatments like plastic surgeries and implants.
These OTC treatments do give you the look that you desire, but, harms your body with their side effects. Some surgeries and implants may go wrong and cause severe damage. Also, the amount of pain involved in various lip implants is sometimes unbearable for a few individuals because as said earlier, our lips are very sensitive and they cannot even bear a single prick of a needle. The fastest way to get beautiful, soft and full lips naturally, is to take proper care of them and apply appropriate makeup. Weekly cleansing and moisturizing the lips also do the trick without much of a fuss. Lip plumper is also easily available at beauty stores in order to help the lips look plump and fuller.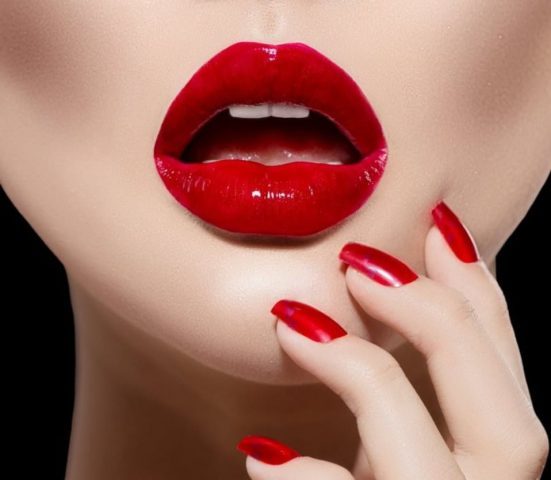 Steps to Make Your Lips Bigger and Fuller
1.) Exfoliate Every Week
Scrubbing your lips every week helps to clear off dead skin and impurities making them look pink and soft. Dark lips appear smaller than their actual size and scrubbing them improves the appearance. Sugar is an excellent remedy to use as a scrubbing agent. It helps to remove the dead skin and give your lips a glowing look.
Grind some sugar to make a powder consistency and add a few drops of milk or rose-water.

You can also add 2-3 drops of lemon juice and use this paste to use as a scrub for your lips.

Alternatively, you can also dip a toothbrush in the sugar solution and use it to exfoliate your lips.

These remedies will give better results if practices every week.

You can also use a washcloth and soak it in warm water. Rub your lips with it in order to remove dirt and dead skin.
2.) Lip Exercises
Though there is nothing much to do with your lips in terms of exercises, but yes, you can definitely give them a massage. This will improve and stimulate the blood circulation in the area and the texture of the muscles in your lip, making the lips appear bigger.
Ice cubes help to relax your muscles and make the lips bigger and fuller.

Place ice cubes on a clean washcloth and keep it on your lips.

Practice this daily for at least 10-15 minutes.
Aloe Vera gel massage can prove to be an effective remedy to make the lips look bigger and fuller. The anti-oxidants present in it help to treat fine lines and dryness, hence making the lips attractive and soft.
Scoop out the gel from a fresh Aloe Vera leaf and gently massage it on your lips using your fingers.

Repeat the remedy to get effective results.

Applying lemon juice to your lips not only removes dirt flakes but also lightens the color.

Dilute water and lemon juice in equal proportions and massage it on your lips.

Using this remedy weekly will help you make your lips bigger and plumper.
3.) Right Makeup
When you don't want to get into much fuss and still look beautiful with those full and plump lips, the best choice is makeup. It can really do wonders when applied in the right manner.
Apply light shaded glossy lipsticks to give an illusion of bigger lips.

Shiny texture reflects more light and thus makes the lips appear fuller and bigger.
4.) Use Cinnamon Oil
In order to make your lips bigger, rosy red and fuller, apply a few drops of cinnamon oil. It is a bit spicy so add a few drops of water to dilute its spiciness.

You can increase the amount of water as required, 

depending upon the sensitivity of your lips.

It can also be mixed with honey as honey will help in moisturizing the lips while cinnamon does the work by slightly making the capillaries swell to make the lips appear bigger in size.
5.) Apply Lip Moisturizers
The most important step in order to make your lips bigger is to keep them moisturized as dry lips shrink in size, thus appear small. Use lip balms and petroleum jelly as the remedy. This will keep your lips hydrated and soft. Olive oil is a great moisturizing agent for your lips as it has Vitamin E that helps to nurture and lighten lip skin. It also makes them soft and smooth. One of the excellent natural remedies is honey because it moisturizes the lip skin.
Apply honey to the lips and massage for 15-20 minutes daily.

This will help your lips to absorb honey and make your lips bigger in appearance. 

It proves to be a great moisturizing agent for your skin, especially the lips.

Milk cream cures dryness and fine lines to make the lips bigger and softer.
6.) Niacin Rich Diet
Avocados and mangoes are some of the foods rich in niacin and can also be used as natural scrubbing agents.
Put the chunks of the chosen fruit in the blender and make a thick paste.

Apply it to the lips and leave for 20 minutes.

Repeating this treatment daily can increase the fullness of the lips and make them bigger.
7.) Use Vitamin C
Foods rich in vitamin C can be used as natural lip lighteners. Juices of fruits like lemon, orange, etc. can be applied to the lips to lighten the skin tone. This will also make the lips bigger and lighter.
8.) Natural Lip Plumpers
The essential oil is easily available at any store; it acts as a natural remedy to make your lips bigger and fuller.
It helps to improve blood circulation and stimulate the muscles of the lips.

When peppermint oil is applied to the lips, it may irritate and a slight swelling also appears.

They also appear rosy pink naturally due to the oil's effect.

It is not at all harmful to your skin in any manner.

Apply a few drops of the oil on your lips directly or mix it with your favorite lip balm.
Capsicum belongs to the family of chilies and the oil or juice can be really spicy sometimes.
You can apply the oil directly to the lips or prepare a homemade lip balm.

Chose one of your favorite lip product, lip balm recommended and mix a few drops of capsicum oil to it. 1-2 recommended, not more than that.

The results are more effective when you use red or pink lip balm.
The spiciness of cinnamon does the trick. It swells the capillaries and makes your lips bigger in size. It also stimulates the flow of blood in the body.
Mix 1-2 drops of cinnamon oil in your regular lip balm and apply it on your lips daily.

You can also use cinnamon powder if the oil is not available.

Mix a little amount of olive oil in it and apply to the lips.

Leave it for 5-10 minutes, then rinse it off.

You may feel irritation but, it will vanish in a few minutes so nothing to worry.
9.) Alternative to Bee Venom
The latest trend, says to undergo the Bee Venom treatment. But, it can cost many bucks so we are giving you an alternative that is honey or Beeswax that also contains some amount of bee venom which helps to make your lips fuller.      
Apply honey or beeswax to your lips and let it stay overnight.

You will surely get to see effective results if applied daily.
10.) Some Regular Lip Exercises
The only purpose of these exercises is to stimulate the flow of blood and boost up the muscles in order to make your lips bigger and increase its size.
Kissing
Pick up your energy and make lip movements similar to what you do when you literally kiss.

Stay on for at least 2-3 seconds and repeat it ten times a day to get fuller lips.
Whistling
This helps to activate the muscles within your lips, thereby increasing the volume and make your lips bigger and fuller.
Smiling
Place your index fingers at the corners of your lips on both the sides.

Now pull them trying to fake a smile.

Hold it in the same position for 5 seconds.

Repeat this five times a day.
Move Them Side to Side
Hold your lips together with your fingers and move them left –right and vice versa.

Do this for at least 4-5 seconds.

Repeat the exercise 5 times a day to make your lips bigger and plump.

Rotation
Purse your lips together and hold them with your fingers.

Now rotate them once clockwise and then anticlockwise.

Do this 5-6 times a day to make your lips bigger and boost the volume.
11.) Use The Honey
Honey is a perfect remedy to make your lips look fuller naturally. The presence of healthy nutrients, anti-oxidants, vitamins and minerals in honey are very good for the skin. Honey will not only make the lips look fuller but also lighten the color of the lips. It hydrates, softens and nourishes the lips deeply and makes the lips look plump. All you need to do is apply a thick layer of honey on the lips and leave it for atleast 10 minutes. Wipe it off and apply a good quality lip balm. Repeat this process several a day to get fuller lips.
12.) Cayenne Pepper Essential Oil
This is another safe remedy to get fuller and plump lips. Cayenne pepper increases the blood circulation and makes your lips look plump and gives the lips a rosy color. You can use cayenne pepper in two ways. First, add a few drops of cayenne pepper essential oil to your regular lip balm. Secondly, crush ground cayenne pepper and add a little amount of water in it. Rub this mixture on your lips at-least 2 times a day.
Note: Use little quantities of cayenne pepper otherwise your lips will burn like hell.
Other Useful Tips to Make Lips Bigger:
Avoid licking and biting your lips to stop drying and bad lip shape.

Keep your lips always hydrated with lip balm. A good lip balm will keep it soft and big.

Fuller looking lips can be accomplished by proper cleaning. Hence, remember to scrub and

moisturize

lips once a week.

Lip massage is another great way for getting bigger and fuller lips naturally.

Daily wash your lips with lukewarm water for removing the pollutant from lips.

At last proper makeup is necessary for making lips appear bigger and beautiful.