After writing about how to grow eyelashes?, how to do eyebrows?, and how to shape eyebrows?, Here is another useful article on how to pluck eyebrows? Achieving those flawless eyebrows is like a dream come true for a girl. Beautiful eyebrows can change your overall look. No one in this world is born with the long and shaped eyebrows. We have to pluck them to give them a beautiful shape. If you want to pluck eyebrows without hurting yourself, follow the tips given in this article to pluck your eyebrows.
Tips to Pluck Eyebrows
1.) Choose the Right Tweezers
Opt for good and sharp tweezers as they are your best friends to get perfect eyebrows. Grab little tweezers, which are very handy and helps to pinch hair perfectly. Look for one which doesn't pluck your skin instead of brows. Choosing right products will help you a lot to pluck eyebrows.
2.) Tweeze After Your Shower
Take shower before you pluck eyebrows. Because warm water softens the hair and opens the follicles. Doing so will help hair come out easily.
3.) Ease The Plucking Pain
Apply a numbing gel, if you feel the pain caused by hair plucking. Take a numbing gel (Orajel baby teething pain) and dab a cotton in it and rub it on your eyebrows before you start plucking.
4.) Stop Using Magnifying Mirror
Don't use magnifying mirror as it can lead to over plucking. Pluck your hair in a well lit floor otherwise you will not be able to see stray hair. Use a room mirror to make sure everything looks normal.
5.) Create Your Own Shape
Before you start to pluck the eyebrows, you need to decide the shape that you want. Once you decide the shape use your bow pencil to create the shape, whether curve or arch. Then pluck the hair that fall below or above your self-made shape.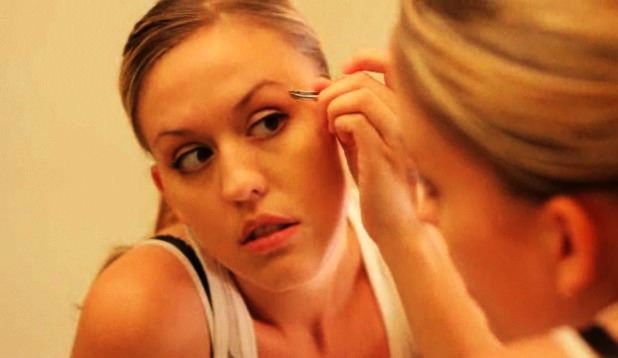 Techniques to Pluck Eyebrows
These techniques are the most important techniques to be considered when it comes to pluck eyebrows. First of all, brush your brow in the upward direction. Then, use a brow scissor to cut the very ends of the long hair and repeat the same for the downward side. Trimming your hair before plucking eyebrows shows the actual shape of your eyebrow.

Start with marking your points on an eye. First, hold a pencil in parallel to the side of your nose. Start with the inner side of your brow. To find the highest point of your eyebrow arch, put a pencil parallel to the outside corner of the iris. Make an angle diagonal from the nostril to the outward corner of your eye.

Now, your eye will tell the exact end of the brow. We will give you the foolproof way to locate your eyebrow arch. All you need to do is look straight in the mirror and find your highest point in the brow. Tweeze this point directly for a perfect arch.

Now, mark these points and make a map with the brow pencil. Doing so will make it very easy for you to get a perfect shaped eyebrow. Begin tweezing or waxing accordingly. Don't remove more than two rows of eyebrow hair in order to maintain the natural shape of the brow. Also, remove the few hair from the corners to make a subtle slope in a downward direction.
4.) Apply Gel After You Pluck Eyebrows
At the end, you need to apply some good-quality eyebrow gel on your eyebrows. Doing so will highlight the beauty of your eyebrows and help you to achieve a natural glossy look for your eyebrows. With the eyebrow gel, you can improve the texture of your eyebrow hair.
Note: Tweeze after shower to shape Eyebrows. Because the warm water helps to open the follicles and softens hairs, helping them come out more easily.
5.) Determine Your Eyebrow Shape
It is not easy to get a perfect shape for your eyebrows without doing any compromise with the natural shape of your eyebrow. So you need to satisfy with whether busy or thin eyebrows. Both are little outdated and don't go with every face cut. To get perfect eyebrow shape, discover the brow shapes according to your face. Learn about the perfect length, arch and thickness of your brow according to your face cut.
Check Your Face Type:
Long Face: If your face is vertically stretched out, then widen your brows from west to east or east to west. Doing so will help to manage a few things. Ensure that the tail of your brow is wide from the corners of your eyes or a little longer. Don't make it too long otherwise, it will make your face and eyes saggy.
Square Face: If you have square jaws that means your face has a square shape. This shape increases the angularity of the face. For this face cut, eyebrows should be little rounded. Make sure that your brows are not too round or angular in shape. Rainbow shape eyebrows will never go with this face cut.
Oval Face: If your face shape is oval, then you need to have a classic and well-balanced brows. For this type of shape, it is easy to shape eyebrows without any extra effects.
Round Face: If someone's face cut is round shaped then angular shaped eyebrows will look amazing on them. It will enhance the facial bone and add the definition to your face. A higher arch will also look great for round shaped faces.
Diamond Face: If you have a diamond face then you need to be very careful while tweezing your eyebrows. It is very difficult to achieve a perfect eyebrow shape for such face cut. But curved brows will go best for this type of face cut.
Heart Face: A face with a heart shape and a small jaw line should focus on the upper part of their face. They should say no to bold brows and stick to neatly manicured brows. But it doesn't matter that you should have to grow an overly thin brow. Only make sure that they are not bushy and you are good to go.
Some Useful Tips to Grow Thicker Eyebrows:
1.) Castor Oil
Castor oil is good for overall skin and hair health. Applying castor oil is very beneficial to get beautiful and longer brows.
2.) Aloe Vera Gel
Aloe Vera gel is an effective remedy for thick brows. Besides increasing the growth of your eyebrows, it also helps in softening and adding a little more shine to the skin around the brow.
3.) Vaseline
Apply Vaseline on your eyebrows twice or thrice a day to shape eyebrows. It will moisturize and condition the brow area, hence help to thicken your eyebrows naturally.
4.) Kohl & Olive Oil
Olive oil and kohl, when used together, work as a great remedy for getting beautiful and thick eyebrows. Kohl gives a dark color to the brows and olive oil will help in thickening your brows.
5.) Coconut Oil
Coconut oil is very widely known for hair growth. Apply warm coconut oil on your eyebrows and let it penetrate for the whole night for getting desired results.
6.) Almond Oil to Shape Eyebrows
Enriched with vitamin E, almond oil is very good for shaping eyebrows. Apply a little amount of almond oil on a regular basis. This will add volume to eyebrows. Shape eyebrows with these simple tips at home.
Other Useful Tips to Shape Your Eyebrows at Home:
If you want to give a good shape to your eyebrows, then let it grow nicely for 6 to 8 weeks. Let the brows grow to their full potential so that you can see the natural shape.

Find out the exact shape that you want. Take a bow pencil and mark a point on the start, arch and end.

Before you cut down your brows, trim them a little. Brush up your hair and trim them to give a beautiful shape.

Before you pluck the brows lubricate the skin and hair follicle with facial oil.

If you want a painless pluck, then tweeze the hair in the direction of hair growth.

Plucking can cause redness, irritation and pain. To tighten the pores and calm down the pain, apply a cooling gel on the brows.