You don't have to be a professional to have beautiful looking eyes, beautifully sculpted with just the right shades of eye shadow. Fine tune your shadow routine on your lids is easy with a few quality products and a little practice. Try few methods of eyeshadow application given in this article and get on your way to being the beauty desire of your friends. Learn tips to put on eye shadow.
Tips to Put on Eye Shadow
1.) Figure Out Your Eye Shape
Map out your eye shape, so you can know about more different shading techniques which will work best for you. Try to learn about the different techniques for applying eyeshadow and eye makeup. learn about the eye shapes and about the desired eye shape you want to get. Apply an eyeshadow is not as difficult to rocket science.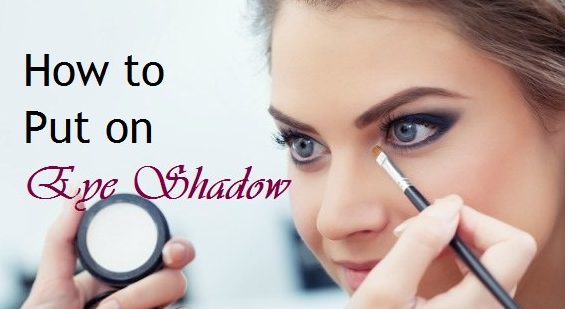 2.) Choose Right Brush to Put on Eye Shadow
To put on eye shadow on your eyes you need to buy the right set of eye makeup brushes. In the set of brushes, you must have large shadow brush to apply highlighter, blending shadow brush,  precision shadow brush, angled liner brush,  blending tip brush, and smudger brush. Every brush has a specific role in applying eye shadow. You need to have all of these brushes in order to apply eyeshadow correctly.
3.) Select Eyeshadow Formula of Your Choice
Eyeshadows come in various types. One type of eyeshadow is cream eye shadow. Which can be used on your eyes as a base before the application of loose powder eyeshadow? It can also be used as a solid colored coverage of eyes. Blending these colors is difficult with cream eye shadows. Even loose eyeshadows are also very difficult and messy to use. It requires a lot of practice to apply loose powder eyeshadow. Various types of pigments are available in loose powder form. You need to know the right trick for its proper application. Pressed eyeshadows are most preferred eyeshadow as they are easy to blend and simple to use.
4.) Primer Before You Put on Eye Shadow
Applying a primer on the eyelids and around the eye before the application of eyeshadow is very useful in enhancing your eye beauty. They can make eyeshadow long-lasting. Primes prevent the eyeshadow from creasing or falling throughout the day. The color of the primer will look brighter if you use a translucent primer as a base.
5.) Choose Color in the Palette
You might have seen different shades in an eyeshadow palette. Through this article, we will guide you to make you understand that which shade is good for which part of your eye. Though it completely depends on how you want to put or wear any shade on your eyes. Usually, the light color is used to enhance the brown as a brow bone highlighter. The second lightest colors can be used as a color to enhance your lid. The darker color on the palette can be used in the crease. Darker colors are best to use on the outer side of the eye.
6.) Dabbing and Blending to Put on Eyeshadow
Most of the time it is thought that there is no big deal in applying eye shadow. There are a few methods that can be very useful to help you enhance your eyes perfectly. When wearing an eye shadow shade on your eyes, you also need to use patting and dabbing tricks. It will help eyeshadow to spread out the pigment thoroughly on your eyes.
Well, just using brush, pigments sits in some places. So for blending pigments you are required to about the dabbing blending tricks. Try to practice gentle motions to blend an eye shadow. Hence, knowing these hecks won't let get your eyeshadow mudded on your eyes.
7.) Manage Makeup Fallout While You Put on Eye Shadow
While using eyeshadow, this will fall on your face, especially loose powder. In order to overcome this problem, you can use colorless loose face powder under the eye. After completing all eye makeup, you can wipe it off using a duster or wipes. You can also use an eyeshadow shield to manage makeup fall out.
8.) Method to Put on Eye Shadow
The eye makeup gives you the natural look. It makes you look beautiful and your eyes look very beautiful. Eye makeup is something which is more important after your hair do's and facial makeup. So here is the time to define your eyes now. So learn about how to put on eye shadow with us. The best thing about this makeup is that it appears completely natural so put on eyeshadow of any color or related to your shade of your makeup. Always keep the color parallel to the shades of your facial makeup. The following step will help you in your eye makeup
How to Use:
Apply the shadow to the brow bones with the help of a stiff dome brush.

Apply eyeshadow on the inner corner of the eye and around the tear duct.

Brush along the lower lashes and it into the crease with the crease brush. Make sure that eyeshadow blends properly so that no hard edges appear.

If you want, you can eye apply a thin eye line to define your eyes.

Fill the brows.

Apply mascara.
9.) Eyeshadow Shapes to Put on Eye Shadow
You must learn the tips and tricks about eye shadow and shapes. Some of the eye shapes are the cat eye, fan shape, rounded eye, banana style and any more. To get a fan shape, you can use three shades of eye shadow color. Lighter shade on  the inner portion of eyes.
Directions:
Get a fan-shaped Eye, you can use three shades of eye shadow color. Lighter shade on  the inner portion of the eyelid. Little darker than the first shade on the middle portion and the darkest shade on the outer part of the eyelid. To get cat eye shape, use the most darkest shadow on the outermost corner of the eye to make a large wing tip shape. Use a pencil brush to spread the color on the top portion of your eyelid.
To get banana style shaped eye, make a perfect line on the crease of the eyelid with the help of  a dark shade. Use the lighter shade over the crease and down the crease and blend it perfectly so that crease line does not get disappears.
To get the smoky look for your eyes, you must apply the dark shade of color on your lower lid and the outer portion of the upper lid. After that, apply a light color shade on the inner corner of the upper eyelid.
10.) When to Apply Eyeshadow 
Try to apply eyeshadow before other facial makeup or hairdo, so that if eyeshadow comes out of eyelids then wipe it off using a swab or tissue. After completing your eye makeup, apply some foundation or concealer according to your need.
11.) Lighten Your Matte Shadow when you Put on Eye Shadow
To get the lighter color out of  your matte shadow shade, use a white pencil to do the trick. Put the white pencil on the upper eyelid before applying matte shade color on. Try to do the sane with lower lids as well. By using this, you can get the brighter shade without any trouble.