Makeup is a tool to magnify the beauty that already exists. It increases your self-confidence and enhances your overall personality. Women empty their wallets in parlors to just get that perfect and glamorous look. This article will bring smiles on your face as you will save those bucks. In this article, you will find some easy steps to put on makeup. So ladies try these steps and get a flawless look without spending money.
Easy Steps to Put on Makeup:
Part 1: Steps Put on Face Makeup
1. Basic Cleaning:
Before you start with makeup, it is very necessary to have a clear and supple skin. You can use olive oil or cleansing milk to remove the dirt and impurities from the face. Dip a cotton ball in cold milk and rub it on your face for some time. This will remove the dead skin cells from the face and will open the pores. You can use an exfoliating sugar scrub. This will set the base to put on makeup.
2. Moisturizing:
Once your skin is free from impurities and dirt it is necessary to hydrate it. It makes the base to put on makeup ensures that it stays for long. Start applying the moisturizer from the forehead. Put 3 dabs of the moisturizer on the forehead. Massage for a few minutes in small circles. Do the same thing on the cheeks, chin, and neck. Remember, no area should be left and apply it evenly. Wait for 10 minutes before starting with the makeup. This will make your skin supple to put on makeup.
Select the Right Moisturizer:
Normal Skin: A lightweight moisturizing lotion will work best for a normal skin. A good moisturizer will bind the moisture and smooth your complexion.
Oily Skin: The moisturizer should contain the properties of controlling oil production on the face. You can use a lush vanishing cream as it is very light and controls the oil production. It will keep your skin hydrated throughout the day.
Dry skin: Use a hydrating cream to make your skin supple. This will restore the natural moisture of the skin and will refine the texture of the skin.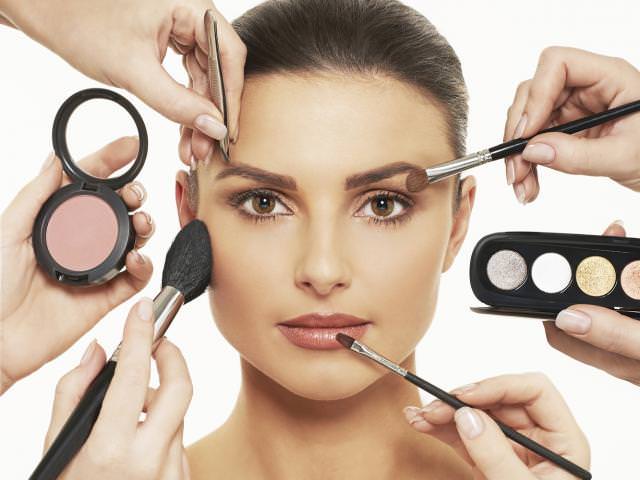 3. Primer: 
It creates a smooth and perfect surface to wear on foundation and concealer. Primer helps your makeup to stay for long as it reduces sweating. It enhances the appearance of your makeup. Use a good quality of primer to put on makeup.
Benefits of Using a Primer:
Primer seals the pores of your skin.
It makes your skin soft.
It gives you an alluring appearance by making your makeup smooth.
Your skin appears more youthful and smooth.
It is a natural shield against dust and water.
If you are having an acne, a primer will help to hide it.
Primer works for every skin and there are no shades so it is easy to choose a primer.
4. Foundation:
Foundation is like the black canvas of the face to which makeup is applied. It hides all the imperfections of the skin and makes it look smooth and even. It protects your skin from sun, wind and other things. Foundation will help you to get a flawless look.
How to Select a Foundation?
The first thing that you should keep in mind while selecting a foundation is your skin tone. A light yellow foundation works best for most of the faces. You can choose from the foundations given below to put on makeup that makes you look beautiful.
Cream Foundation: If you have a dry skin, then the cream foundation is an ideal choice for you. It has intense moisturizing properties and has a heavier coverage.
Cake Foundation: This works best if you have an oily skin. It controls the oil and hides the blemishes and scars well.
Waterproof Foundation: In summers and humid temperatures the foundations generally don't last for a long time. For these sweltering conditions, a waterproof foundation is the best option as it is water resistant and will make your skin look glamorous.
Spray Foundation: It helps to retain the makeup for a long time. You can spray it anytime on your face to make your makeup look fresh. They come in a variety of shades. Choose the shade according to your skin tone.
Oil Based Foundation: This is the best option for women with dry or wrinkled skin. It makes the skin look moist.
Water Based Foundation: It gives you a luminous finish by capturing the moisture within the skin. This kind of foundation blends effortlessly with the skin.
How to Put on Foundation?
Start with the center of the face. Dab your foundation on the cheeks near the nose, chin and on the forehead.
Blend it smoothly with a brush. Your foundation should not be thick so spread it evenly on the skin.
Cover all the blemishes and spots carefully with a soft brush. Don't leave any marks on the points from where you start to apply or end.
5. Concealer:
This is an important item to put on makeup. Concealer can make a tired face look brighter. It will even the uneven areas of your face and hide your blemishes and dark circles.
How to Choose a Concealer?
Dark Circles: For hiding your dark circles, you should use a liquid concealer that is specially designed for the eye. You can use an orange hued concealer for dark circles with a grayish tinge to look natural.
Pimples: Use a solid concealer that is one tone darker than your skin. This will give you a natural look. You can choose a yellow hue concealer to hide the redness of your face.
Dark Spots: You can choose a solid concealer which is close to your skin tone.
How to Put on Concealer?
Pat a concealer around your eyes and use a brush to blend it.
Apply the concealer at the base of your lash line.
Use a concealer brush to blend the concealer in your skin.
6. Powder:
Use a powder to add depth to your makeup. This will highlight your cheekbones, under your brows and the inside corners of your eyes. This way you will put on makeup perfectly.
7. Bronzer:
Bronzer is used to add the dimensions to your face. No doubt that concealer and foundation make your complexion smooth, but they also hide the natural shadows that your skin has. You can apply a bronzer on your cheekbones and nose to get the perfect look.
8. Blush:
A rosy blush will make you look all the more beautiful. It is good to apply a blush on your cheeks to give a natural rosy tint to your face.
Part 2: Steps to Put on Eye Makeup
1. Eye Primer: It is necessary to use a quality eye primer so that the eye shadows stay for long. It will protect the eye shadow from sweat, dirt and excess oil on the skin.
2. Eye Shadow: The process will start by applying a medium color on your eyelid. You can use a medium pink or brown color. Apply an off white or light gold color on your brow bone. You can use a dark color such as violet or dark brown on your creases.
3. Eye Liner: Use a liquid eyeliner and draw a line on your upper lash from one corner to the other. Do the same thing with the lower lash.
4. Curl Your Lashes: Use an eyelash color for this and hold the eyelashes for about 5 seconds. You should always apply a mascara after curling your eyes.
5. Mascara: Keep the wand into the base of the eyelashes. Now pull the wand in an upward direction. Wiggling is important as it will separate the lashes. Now close your eyes and put the wand on the top at the base of lashes. Gently pull it downwards to remove the clumps.
Part 3: Steps to Put on Lip Makeup
1. Moisturize Your Lips: It is very important to moisturize your lips before applying the lipstick. You can use a scrub to remove the dead skin of the lips. You can use a good quality lip balm to keep your lips moisturized.
2. Choosing the Color: Your hard work will go in vain if you do not choose the right lipstick color. It will enhance your personality and will give you the look you want. If you have a fair skin then bright and medium shades will be perfect for you. Deeper shades will make you look more gorgeous. Women with wheat colored skin should go for bronze and rosy shades. Bright shades will look best on women with dark skin.
3. Lip Liner: The first thing that you should keep in mind while using a lip liner is that it should be well shaped and pointed. This is necessary to make the perfect outline. A dull pencil will spread the color. Start from the center of the upper lip and then go towards the corners. Do the same thing with the lower lip.
4. Lipstick: Start applying the lip color from the center and slowly spread it into the corners. You can use a soft brush to serve your purpose. Don't cross the lip line that you made.
5. Buffing: Use a tissue paper and dab it on your lips so that the extra lipstick comes out. Don't rub otherwise it will become uneven. Again, apply a thin layer of lipstick to make it look even. Apply lip gloss to make your lips shinier and attractive.