Are you suffering from the tiny dots on the surface of your skin? These tiny dots are actually the openings of hair follicles, which are called pores. Each pore contains a sebaceous gland, which produces your oil in your skin. It doesn't matter how effectively you take care of your face, large pores can always arise, which make the looks like blemishes even bigger. If these annoying pores and blemishes are bothering you,  read this article to get tips to shrink pores.
What are Pores?
Pores are small little openings in the skin where the sebum is produced in the sebaceous glands. Then the oil is released to the surface of the skin. Pores are also the opening at the top of our hair follicles. Every oil gland has a hair follicle and the opening on the outward of our skin is the pore.
Keep few things in mind before starting the treatment for pores:
Try to keep your hand clean and wash before touching your face.

Touch your face as little as possible or you'll additionally burden it with natural oils and dirt from your palms.

Always use good quality products to give your skin the maximum level of nourishment and care.

Don't overdo any treatment or you might end up irritating your skin.
Home Remedies to Shrink Pores
1. Apply Clay Mask to Shrink Pores
Clay helps to draw oil and dirt from the skin. It shrinks your pores by reducing inflammation of the skin. Due to a detoxifying nature, it squeezes the skin pores to get rid of any oils, dirt, and water percolated in them. The gives you a refined skin without noticeable pores.
Directions:
Apply clay gently on your skin.

Ensure it covers every part of your skin and leave it till it dry, otherwise it can be irritating.

Wash with warm water.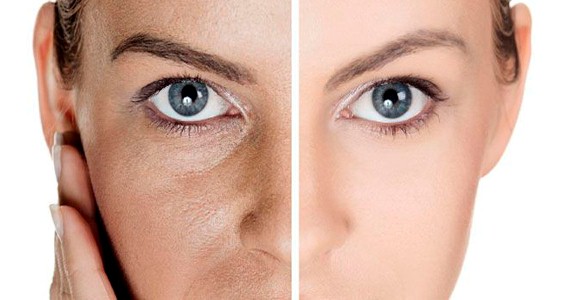 2. Egg White to Shrink Pores
Egg white has some properties that help tighten the skin. It also helps to shrink the huge skin pores on your skin.
How to apply it:
Whisk two egg whites.

Add the juice of half a lemon.

Apply the mask on your face and leave it on until it dries.

Wash off with cool water.

Use a few times a week.
3. Baking Soda Exfoliation to Shrink Pores
Baking soda is also very helpful to shrink pores by balancing the pH level of your skin and removes all the dirt and oil particles from the surface of the skin. Use it carefully if you have sensitive skin, because it may cause a little irritation to the skin.
Directions:
Mix two tablespoons of baking soda with warm water to make a paste.

Apply the paste on your face in circular motions and massage gently.

After 30 seconds, wash it off with cool water.

Repeat the treatment every day for one week to shrink pores completely.
4. Apple Cider Vinegar to Shrink Pores
Apple cider vinegar is a very useful ingredient, easily available in every house and very useful for almost every problem. It is a potent anti-microbial and anti-bacterial remedy which is a natural balancer that will help shrink pores effectively.
Directions:
Mix ACV and water in equal ratio.

Apply the mixture on your face using a cotton ball.

Leave it for a few minutes and then wash it off.
5. Lemon Juice to Shrink Pores
Lemons can be used in many ways to enhance your health as well as beauty. Highly concentrated lemon juice reduces the appearance of skin pores. The lemon juice will shrink the pores naturally. However, lemon is not recommended for anyone who has a dry skin.
Directions:
It can be applied by using a cotton pad.

It should be left for about 5 minutes before washing off with cold water.

To prevent the skin from drying, apply an oil-free moisturizer. For those who have a dry skin, apply juice diluted with rosewater.
6. Plain Yogurt Mask to Shrink Pores
Yogurt contains probiotics and lactic bacteria, which help by reducing the bad bacteria that causes acne, therefore minimizing the appearance of pore size. It is also a good cleanser that will help clear impurities dissolved inside the pores.
Directions:
Mix the yogurt well and apply a thin layer on your face.

Leave it on for a maximum of 10 minutes.

Wash off with cool water.

Repeat this at least twice a week.
7. Cucumber Juice to Shrink Pores
Cucumber juice is also an effective remedy to shrink pore very effectively. It works as a natural astringent and helps shrinks open pores. It gives a glow to the skin by refreshing naturally.
Directions:
Crush one cucumber to get the fresh cucumber juice.

Apply this fresh juice on your skin with the help of a cotton ball.

Leave it and let it work for 15 to 20 minutes and then rinse it off with cold water.
8. Ice to Reduce Skin Pores
Ice helps to shrink pores by tightening the skin. This remedy not only improves your skin's appearance, but it also invigorates you.
Directions:
Rub ice cube on your skin for 10 to 20 seconds. Wrap a few cubes in a clean cloth and apply it to your skin. Do this a few times a day.
Or
You can also wash face with ice cold water. Try this in the morning and evening, but don't over-wash. More is not always better and too much washing can irritate the skin.
9. Herbal Compresses to Reduce Skin Pores
The herbal compresses help to shrink pores by making them disappear on the skin by squeezing them.
Directions:
Add one cup of hot boiling water into a small portion of the herbs.

Cover the mixture and wait for about an hour.

After the solution gets to a room temperature, sieve it to remain with the resulting liquid and put a clean cotton cloth in it to soak for some time.

Put that cloth on the face and wait for 15 minutes and wash it off.

Repeat this process at least once per day.
10. Sugar & Lemon Scrub to Shrink Pores
This is another home scrub help exfoliate your skin, remove oil and dirt and help shrink pores
Directions:.
Mix two tablespoons of sugar and one tablespoon fresh lemon juice.

Mix it well and apply it on your skin and gently massage for 20 to 30 seconds.

Rinse it off with cool water.

Apply once or twice in a week.
11. Fuller's Earth to Get Rid of Skin Pores
This is one of the famous home remedies to reduce pores. It absorbs all the excess oil from skin and exfoliates the skin. It also reduces the blemishes and scars.
Directions:
Mix fuller's earth with rose water and make a paste.

Apply this as a face pack to reduce skin pores.

Let it dry and wash your face with lukewarm water.
12. Apply Oatmeal Mask to Shrink Pores
Oatmeal is also considered to be the best to shrink pores effectively. Oatmeal exfoliates the skin gently and soothes the skin.
Directions:
Mix two tablespoons of milk powder, five tablespoons of honey, and two spoons of oatmeal altogether.

Apply this solution as a mask on your face.

Let it dry for 10 to 20 minutes.

Wash with clear water and pat your face dry.