After writing about how to remove gel nail polish?, how to remove super glue?, and how to remove splinters?, sere is another interesting article on how to take off acrylic nails at home? Meeting up the beauty requirements is every woman's to do nowadays. The requirements range from head to toe with numerous products available in the market that potent some kinds of magical skills. These beauty products transform a woman into a diva within minutes. In such cases, no woman can resist, not being one among the crowd. Beautifying the nails is also one among all the other beauty requirements that is the actual cherry on the cake. It plays a key role in enhancing the beauty of your hands by providing them the sheen appearance that they desire in order to keep the odds away. In this article, we bring you different ways to take off acrylic nails safely at home.
Many women love to decorate their nails by spending bucks at the salon. They tend to use acrylic nails that are easy to stick and do not come off easily. This prevents from spoiling the sexy and glamorous appearance that they give to their nails and hands. But, every coin has two faces, so does these beauty products. As soon as these nails start growing out of order, it loses its glamorous appeal and all you are left with is to get rid of those ugly stickers as soon as possible.
Disadvantages of Using Acrylic Nails:
Acrylic nails can cause nasty injuries to the nail bed.

These injuries can cause serious infections that may need medical help.

You are helpless and totally depend on your manicurist.

Useless and unwanted expenses

Proper aftercare is mandatory while working with acrylic nails.
Simple Procedures to Take Off Acrylic Nails at Home: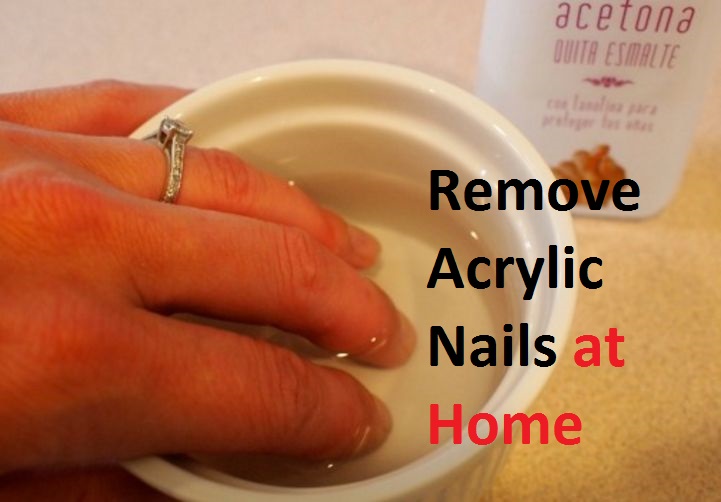 (A) Use The Acetone to Take Off Acrylic Nails at Home
1.) Start With a Nail Cutter
Clip off the extra unwanted corners of the acrylic nails and cut them short. In case the thickness of the nail makes it difficult to clip, then use a filer to file the unwanted corners. Make sure to be safe so that you do not hurt your nail bed because this can lead to bleeding and infection in the nail bed.
2.) File the Topcoat
Use a nail buffer to file off the top coat of your nail and remove as much of the acrylic nail as possible. Cover the length of your nail by using long strokes. This will help to remove a larger area of the acrylic nail in a single stroke.
3.) Soak In Acetone
Pour acetone in a bowl to fill it halfway. You can also place the acetone filled  bowl in a bigger bowl of warm water. This will keep the acetone warm and double the effect.
NOTE:
Never heat acetone directly as it is highly inflammable.

Check the ventilation of your room before using acetone as it has strong fumes. Some people are even allergic to it.
4.) Coat the Skin with Petroleum Jelly
Before applying acetone directly to the nails, it is very important to protect the skin around the nails. This is because acetone is strong and can damage the soft tissues of your skin. So, coat the skin around your nails with petroleum jelly. Make sure you do not apply any of the petroleum jelly on the nails as acetone can dissolve the jelly and reach the skin. If you want to be more precise with the application then make use of a cotton-tipped wooden applicator.
5.) Now Use the Acetone
After you have secured the skin around the nails, it's time to use the acetone. Soak a few cotton balls in warm acetone. Place these soaked balls on every tip of your finger. Wrap the fingers tightly against the nails with the help of aluminum foil. Leave it to work for half an hour then remove. You can also use non-plastic tapes as an alternative for aluminum foil. You can also directly soak up the acrylic nails in acetone if you do not want to wrap them up and get into a fuss.
6.) Remove the Wraps
If there is no fuss, these wraps will come out safely including the cotton balls. If the remains of acetone are still left on the wraps then pat them dry using an orange wood stick. In case the wraps are stuck and cannot be removed easily, do not pull. Wait for another half an hour and then go for a second attempt.
7.) Scrape the Remains off
Use a nail buffer to scrape off the remaining acrylic nails. At this stage, it is easy to file them off as they are soft because of the acetone. In case the acrylic remains, then begin to make them soft again while buffing. Use a cotton ball soaked with acetone to dampen them again.
8.) Give them the Desired Shape
Now that all the acrylic nails are removed and you are left with your natural nails, use a nail clipper and buffer to give them the desired shape. Buff them lightly using a fine grade nail buffer. Start from the base slowly moving to the tip of the nail.
NOTE- Always file the nails in a single direction to avoid damage.
9.) Restore the Moisture of Your Nails
Acetone may damage the nails and can even dry out the skin around the nails. Rinse the remaining traces with soap if any of the remains are still left. Pat dry your hands and massage a body oil on the hands to restore the moisture.
Following these steps correctly will help to take off acrylic nails fast at home without the help of a salon pro and spending any bucks.
(B) Take Off Acrylic Nails Away With a Filer
Another method that helps to take off acrylic nails away is to file them off using a nail filer of the buffer.
1.) Again Use a Nail Clipper
Trim off the unwanted corners of the acrylic nails using a nail clipper. This will shorten the length of your nails. Cut them off as much as possible but, make sure you do not hurt your nail bed. Hurting the nail bed can result in bleeding and thus causing infection.
2.) File Your Nails
File each of the acrylic nail working on one at a time simultaneously. Filing the nails will help to take off acrylic nails away leaving behind your natural nails. Continue filing until any of the acrylic remains are still witnessed overlaying your original nails. Do not over file the acrylic nails as it can also scrape off the original nail causing long-term damage.
3.) Pry Up the Sharp Edges
Now when you have filed away all the remains of acrylic nails, it's time to clip off the sharp edges of acrylic nails. This can be performed safely using a cuticle stick.

Simply lift the edge of the acrylic nail and place the tip of cuticle scissor under it. Now, use the scissor to clip away the acrylic part.

Repeat until all of the acrylic nails are removed. Slowly work on each of the nails simultaneously.
4.) Buff Them Off
The last step is to buff the remains of acrylics on the nails and remove them. Shape the nails using a nail clipper and file. Finally, apply an effective cuticle cream and a moisturizer to restore the moisture of your nails and the skin around them.
These simple methods will help you to take off acrylic nails fast and on your own.
(C) Take off Acrylic Nails Using a Dental Floss
1.) Plea Your Bestie
Yes, in this method you will need a partner. Instead of two, you will need four hands since yours are the ones with the acrylic nails on and the other two will help to pull the dental floss and take off acrylic nails away.
2.) Position the Floss
Your partner will use the cuticle stick to gently lift the edge of the acrylic nail. Make a loop structure from the floss. Now slip the midsection of the dental floss under the lifted edge. Hold the two free ends of the floss in the either hands.
3.) Begin the To and Fro Movements
Ask your partner to slide the floss back and forth under the acrylic nail. This will slowly loosen the nail thus pushing it out and freeing it from the original nail surface. Continue the movements until the whole nail is free from the original nail surface.
NOTE- Do not yank the floss upwards too quickly. This can damage the natural nail.  
4.) Buff the Nails
After you take off acrylic nails using floss now, buff off the remains of acrylics from the natural nails. They may appear a little torn from the floss so, use a good and effective moisturizer to restore the natural appearance back.
Using these steps and following them correctly will help you to take off acrylic nails without the help of a salon pro. But, you will need your bestie or a partner to help you out with the steps. As these steps need 4 hands to perform the task, but unfortunately no one on earth has been gifted with more than 2 hands.
Taking care of your acrylics and your actual nails are the 2 important components of taking a good care of your acrylic nails. Most women think that acrylic nails don't need maintenance, but they're wrong. These 10 tips will help you take good care both for the acrylic and your natural nails!
Other Useful Tips For Taking Care of Acrylic Nails:
1.) Be Gentle
This is the most important thing to maintain your acrylic nails. Don't use your nails to open things or to open cans. This can break your acrylic and damage your own nails. You need to handle your long nails gently since breaking them can be very painful.
2.) Repair the Damage Fast
If you see cracks in your nails, you need to repair it as fast as possible. Don't wait for things to get serious. Small things are cheaper and easier to repair.
3.) Keep Your Nails Dry
You need to keep your nails dry because continuous contact with water can lead the glue to loosen nails. Acrylic nails can also attract fungus and bacteria because moisture can breed them. Always keep your nails dry. After washing your hands, wear gloves if you need to soak your fingers during some work, like washing your pet etc.
4.) Oil Your Nails Every Day
Apply natural oil to your acrylics each day. Oil will make your nails manageable and will prevent cracking also. You can use grapeseed or jojoba oil since they are one of the best penetrating oils.
5.) Wash Regularly
Always wash acrylic nails with antibacterial soap. This will decrease the risk of infection. You can also clean your under nails using a Q-tip moistened in rubbing alcohol to stop bacteria.
6.) Keep the Skin Around Your Nails Healthy
You need to keep the skin healthy around your nails. Moisturize it every day and check for redness or dryness around your acrylic nails. This can intimate you with any infection so that you can remove your acrylics.
7.) Apply Clear Nail Polish
Apply clear nail polish to your acrylic nails once a week. This will help you keep the finishing on your nails and lessen the risk of infection.
8.) Don't Use Acetone
Stop usage of acetone because it can decay your acrylic nails. You should avoid everything that can cause damage to your acrylics such as thinner, Goo Gone, heat etc.
9.) Apply Vitamin E
Vitamin E is great for your nails and you should apply it on your fingers and nails 2-3 times a week. Vitamin E provides a good base for your acrylics and keeps your nails natural and healthy.
10.) Don't Repair Your Acrylics by Yourself
Don't try to fix your damaged acrylic nails. You could end up with more injury than before.
Things You Need to Know Before You Get Acrylic Nails Done:
Since these are not your real nails, you may feel a little uncomfortable for one or two days. If you don't feel comfortable after many days, then go to your manicurist and ask her to change your tip sizing or ask her to keep the length short.

Acrylic nails require a lot of maintenance. Sometimes when moisture gets under the fake nails, fungus is caused which results in nail infection.

A lot of money is required to maintain acrylic nails. You need to go  to the salon every couple of weeks to maintain the beauty of artificial nails.

You need to go for regular manicures to avoid long term damage to the nail bed.