After writing about how to remove acrylic nails?, how to stop biting nails?, and how to get super glue off your fingers?, Here is our next article on how to take off fake nails at home? Fake nails are adorable, especially when you are not blessed with beautiful and big nails. It's the best way to have the elegant and beautiful hands. False nails even enhance your personality and make you look attractive and fashionable instantly. You can flaunt your fake nails anytime, even if your real nails are not beautiful and long enough. Fake nails are very much in trend, which sticks to a particular point of time. But most people do it desperately, but they don't how difficult it is to take off fake nails and salon charges more than your pocket.
Artificial nails have many names like nail extension, false nails, nail wraps, fashion nails, fake nails and  nail enhancements. Fake nails work as accessories for your finger nails and they come in the widest variety of material. It looks so elegant in your hands that people are dying to have artificial nails, but the problem comes at the time of removing the fake nails from your finger. In this article, we have shared some methods to take off the fake nails. Before moving to methods, you must be aware of the disadvantages of the fake nails.
Disadvantages of Fake Nails:
While removing the fake nails, there are chances of getting a terrible fingernail injury.

Mostly people don't know how to take off fake nails, so they always depend on manicurist.

You also have a risk of serious infection as the damaged nail gives place to bacteria and fungus.

Fake nails have chemicals and strong formation of the fumes that can cause allergy to your skin, some say the acrylic dust is poisonous.

Fake nails are perfect for a short time and when the real nail start growing, fake nails cause problems and pain in your fingernail.

You spent so much of money to refill the fake nails.
Different Methods to Take Off Fake Nails at Home
1). Acetone to Get Off Fake Nails
Follow the steps given below:
Material Required to Taking Off Nails:
Nail Clipper

Topcoat gel

Bowl

Petroleum jelly

Foil Paper

Acetone

Nail Buffer

Nail Filer

Olive oil or Moisturizer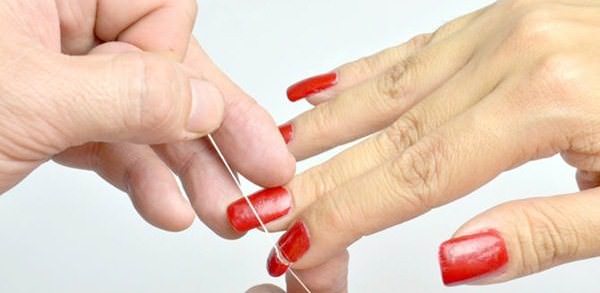 Procedure to Take Off Fake Nails With Acetone:
Use a clipper to trim the fake nails. The fake nail is bigger and not soft like a real nail, so before removing it you need to trim the fake nails with the help of nail clipper. If you can't trim the thick nails with the clipper use a coarse nail filer to file them and make it short. Be aware while doing this because you can also harm your nail bed which results in bleed.

Use grade buffers to file off the thick paint and remove as much acrylic as you can from the base of the nail by using a long stroke.

Take the acetone and pour it into the bowl. Some people like to dip to their hands in a larger bowl of warm water, but acetone is highly inflammable so don't heat the acetone and do light any fire item because acetone can easily catch fire.

Take petroleum jelly and apply to the surrounding of nails to protect the skin area. As the acetone dissolves plastic so you can think how harmful is acetone for the skin. Do not put too much petroleum jelly as the acetone can dissolve the jelly also.

Apply the acetone with the help of cotton ball on the tip of the nails to fight against the acrylic nail and wrap the finger tip with foil paper and leave it for 30 minutes.

After 30 minutes take off the foil and the cotton ball from your fingertips and take out your nails off with an orange wood stick. If you still feel difficult to take out the fake nail, then repeat this procedure again after 20 minutes.

Use the buffer to take out the rest acrylic away. As the acetone bath makes the acrylic softer, but if the acrylic becomes hard, then use a cotton swab and dip it into acetone and put it on the acrylic area.

Give shape to your natural nails by using the nail clipper and nail file to shape the edges of natural nails. Using a fine grade muscle, buffer the nails lightly in the direction from base to tip. Filing in this direction helps in avoiding the injury. After giving shape be careful not to damage and break the nails.

As the acetone makes the skin dry and to avoid dryness, apply acetone to your finger's tip.
2). Take Off Fake Nail With a Filer
Follow the steps given below:
Material Required to Get Off Fake Nails:
Cuticle Stick.

Nail clipper.

Filer

Nail buffer.
Procedure to Get Off Fake Nails With a Filer:
The fake nails are long and stick to the surface of your real nail. It is very difficult and painful to remove them directly so trim the nails with a nail clipper to get the shorter length. Cut the most acrylic part of the fake nail as possible. If you are getting difficulty in thick fake nails, then use a coarse filer to file them easily.

Work on one nail at one time by using a filer. Use the coarse side to file down the acrylic until it becomes thin. Keep continuing it till you get as much possible acrylic from the nail tips. But don't do it you are in danger to get the injury. Be aware, removing the many layers of acrylic can also cause damage to the nails so do it carefully.

Scratch the nail edges with the help of a cuticle stick. Once the acrylic started moving, place the cuticle stick under it. Keep scratching the edges with the help of a cuticle stick until it gets removed from the fingernails.

Buffer your nail to remove the last traces of acrylic and give shape to your natural nails with the help of nail clipper and a nail filer. Apply the moisturizer or cream to your fingertips to keep it softer.
3.) Take Off Fake Nails With Dental Floss
Follow the steps given below:
Material Required to Get off Fake Nails:
Dental Floss

Cuticle sticks

Buffer

Moisturizer or cream
Procedure to Take Off Fake Nails:
For dental floss procedure, you need a partner because two hands are needed to pull the dental floss under your nails. If you have sensitive nails and damaged nails, then this method is not for you. Sometimes dental floss takes out the natural nail layer with acrylic.

Use a cuticle stick to scratch the bottom edges of the entire fake nail.

Tell your partner to slide the dental floss under the acrylic nails by holding the 2 ends of floss in either hand and do it properly.

Loosen the acrylic nails by guiding your partner to slide the floss back, forth and pull it up so that the acrylic nail gets loose. Work on each nail at one time to avoid the risk of getting injured.

Use a buffer to give the natural shape of the nails and also for cleaning the acrylic traces left on the nails.

Apply cream or moisturizer to soften the skin, then your nail should be acrylic free.
4.) Take Off Fake Nails With Alcohol
Follow the steps given below:
Material Required to Take Off Fake Nails:
Nail clipper

Alcohol

Cuticle Pusher

Bowl

Soap

Nail Buffer

Petroleum jelly

Towel
Procedure to Get Off Fake Nails:
Use a nail clipper to remove an excessive amount of acrylic from the natural nails. Removal of excess of acrylic helps in making less effort while you are using alcohol to take off fake nails.

Apply the petroleum jelly on your fingers. Do not apply the jelly on the nail surface as it will take more time for alcohol to dissolve the acrylic nails.

Take a bowl in which your fingertip can easily absorb the alcohol and put alcohol in it.

Soak your finger in the bowl of alcohol for 15 to 20 minutes. While doing this procedure cover the bowl with a towel so it will work faster. Use one finger at one time.

Take your hand out and scratch your nails with the help cuticle. Push and scratch the fake nail with gentle digs and stroke. Do this with both hands and do one hand at one time to take off fake nails.

Wash your hands with soap and dry it with a towel and apply moisturizer on it.
5.) Aluminium Foil to Take Off Fake Nails:
Follow the Steps Given Below:
Materials Required to Take Off Fake Nails:
Aluminum foil

Petroleum Jelly

Cotton Balls

Nail File

Nail Clipper

Acetone
Procedure to Get Off Fake Nails:
Use a nail clipper to cut the artificial nails as short as possible. But be careful otherwise you will hurt yourself.

File off the top coat to remove any kind of design or hair color.

Coat the cuticles of each finger with a thick layer of petroleum jelly.

Dip cotton balls in acetone and place it on the fingers.

Wrap pieces of aluminium foil around each finger.

Leave it like that for 20 to 30 minutes.

Now, when you will remove the aluminium foils, the fake nails will come out of it easily.
6.) Laminated Business Card to Take Off Artificial Nails:
This is one of the easiest and fastest way to remove artificial nails. All you need is some orange sticks and laminated business card. Follow the Steps Given Below:
Procedure to Take Off Fake Nails:
Pry the edges of the fake nails with the help of orange sticks. Make sure you don't hurt yourself and don't peel your actual nail.

Once a small inlet is made with the orange sticks, slide the laminated business card in the small inlet.

Gently apply the pressure in the upward direction.

Make sure you peel one nail at a time in order to avoid injury.