Eczema, This word eczema comes from a Greek word which means to bubble or boil over. We will let you know today what is eczema? And will help you to understand it properly. It's essential to remember that numerous  people have eczema. Over 30 million Americans have it. There is no need to be self-conscious by your eczema. You are not the only one suffering through it. Uncountable individuals are suffering from eczema and finding solutions to it in a very short time. So, today we are here to discuss different ways to treat eczema naturally? Let's find out.
Causes of Eczema:
Although there are various causes to Eczema. The specific cause of eczema always remained unknown, but it is believed to have developed due to a combination of numerous hereditary and environmental factors. Children are believed to have any disease like the one if the parents suffered through it. Let us get to know about a few of the major causes.
Irritants which cause eczema is soaps, shampoos, detergents, disinfectants, juices from fruits,meats or vegetables.
Allergens as its reasons:  dust mites, pets, pollens, mold, dandruff.
Microbes can also be considered as the cause of eczema: bacteria  Staphylococcus a, certain viruses and fungi.
Weather could also be a part of it as hot weather, high and low humidity, perspiration from exercise are the reasons for it.
Under the category of Foods, various dairy products, eggs, seeds and nuts, soy products, wheat, these food items can be counted among those causes
Stress, the word is itself the bulk of many diseases. And now, it is not considered as  a cause of eczema but can make symptoms worse.
Hormones: women can experience worsening of eczema symptoms at times when their hormone levels are changing, for example during pregnancy and at certain points in their menstrual cycle.
Home Remedies to Treat Eczema
These are few of the home remedies for eczema which will focus on strengthening the skin barrier, filling in the unwanted gaps, and retaining immense moisture, It also focuses on addressing specific troubles like inflammation and itching.
1.) Coconut Oil to Treat Eczema Naturally
Start with the most Simple and straightforward remedy? Coconut oil does an amazing job of sinking into the skin and filling up that intracellular space which gets opened up and make you lose moisture. Usually, it is  a lipid, of course, and oils and fats are what you need to prevent your skin from dryness.
Directions:
Rinse your hands with water, then pat them dry.
Rub the coconut oil properly on the areas affected and let them dry.
Apply as much as needed for the whole day.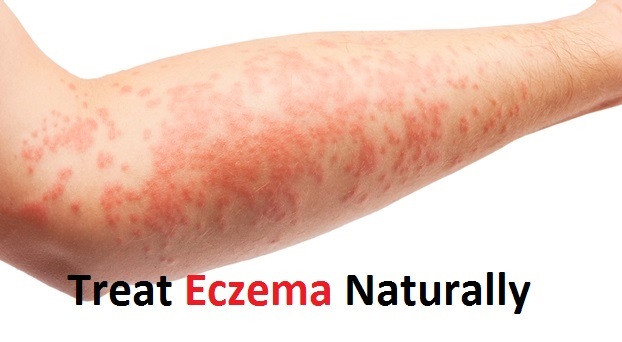 2.) Butter Treat Eczema Naturally
If your skin is dry, itchy and you want a great relief to get out of those patches on your skin, then good butter is the best remedy to take place. This combines 4 amazing healing ingredients that make a spectacular healing butter, Shea butter, beeswax and Coconut oil. Shea has a high level of content of non-Saponifiable fatty acids, namely Oleic and Stearic. Non-Saponifiable just means it cannot be saponified and also cannot be hydrolyzed and converted. Various healing benefits of it come from these fatty acids and their incomparable ability to heal, repair and soften damaged skin.
It can also help in lowering inflammation, which is huge when it comes to eczema. Beeswax has been mainly just the medium used to thicken this butter, but it also helps protect and soften skin. Coconut oil is a good addition for all the reasons listed in the remedy above.
Directions:
Melt down the beeswax and Jojoba completely in a double boiler.
Add the coconut oil and stir it.
Add the Shea butter in it and pour the mixture into glass jars.
Place the cover and allow it to cool.
Now apply it on the affected areas.
3.) Oats to Treat Eczema Naturally
You can go back and use the basics if you feel like unable in managing your eczema. Chemical ingredients in Oatmeal contain anti-inflammatory properties which help us to get relieved from discomfort due to inflammation. It also helps us as a treat in reducing itchiness.
4.) Sea Spray to Treat Eczema Naturally
Many People say that they felt better at the beach and it makes sense out of  it. In between the Vitamin D, the magnesium and the minerals in the water, it is also being said that the beach is great for the skin to get better. But there are numerous people who do not stay near the ocean, for them, sea spray plays the important role in getting relief from itchiness and infection. Sea Spray and its coolness accompanied by the minerals and the sea water properties helps you to vanish eczema.
5.) Fermented Cod Liver Oil to Treat Eczema Naturally
It might sound a little weird and nasty to you, but it is one of the supplements those are present in our daily life. It is recommended by the Weston A, Price Foundation and is an amazing source of healthy fats in the body. Fermented Cod Liver Oil is an integral part. Cod Liver Oil is An incomparable source of the fat-soluble vitamins A,D, K and E and as such are supportive of innumerable processes in the body. The supplements are much expensive, but we've seen an immense big difference in adding this to our regimen (including skin health)
6.) Magnesium Baths to Treat Eczema Naturally
Some people feel it worse when they suffer from eczema and soak it in water. Magnesium baths are very helpful in healing skin problems and also are immensely beneficial for curing up eczema. But few people find it problematic in soaking themselves with water. But for those who can tolerate it, magnesium baths are relief giver to the ones, as it can heal off the Eczema properly.
Take one or two cups of magnesium flakes
Add half cup of sea salt and half spoon of natural Vanilla extract
Add 15 drops of important oils like lavender or mint
Mix it all with the water and take a bath.
7.) Probiotics to Treat Eczema Naturally
Probiotics and its food are elements that are often noticed missing from the diet which is considered as modern. Nowadays, most of the food is dead and we hardly ferment them in our own ways. So, we do not believe in consuming rich probiotic foods without any effort.
You should always make it sure to take probiotics in your food as gut bacteria present in it is way too beneficial for us. Here are the drinks and foods in which you can look for probiotics :
Kombucha Soda.
Sauerkraut
Using 'WHEY' make vegetables( Lacto-fermenting).
Water Kefir.
8.) Healing Salve to Treat Eczema Naturally
Homemade healing salve is helpful to us for eczema which takes a longer time to heal. It is helpful not only to Eczema but also to the cuts, stings, bruises and skin irritations. It is beneficial to us in the cases related to babies like diaper rashes and baby skin irritation.
9.) 

Chamomile

 Tea to Treat Eczema Naturally
Chamomile, it is an incredible medicinal element at soothing the skin. It lowers down the level of  inflammation, heals spots and tames itchiness that has been scratched off in a massive way. Its benefits are from a natural alcohol known as a Bisabolol. Bisabolol has been considered a medicine to ease irritation, vanish inflammation, and has anti-microbial effects, which can be useful in warding off any sort of germs that decide to take an advantage of  skin in its weak state. There's not any better way to surround yourself with these benefits than to take a tea bath. It's quite similar to the oatmeal bath above, but with chamomile instead of oats. If you'd like, you can even try combining the two sometime.
10.) Fish Oil to Treat Eczema Naturally
Fish oil is everywhere and we can cure everything of it.But it has been told that it helps lower down the severity of people's eczema, particularly the itching. Research has shown that low rate of fatty acids can be found in those with atopic eczema. These fatty acids can be seen breaking down into their metabolites, and among them, N-6 and n-3 fatty acids are particularly important in maintaining normal skin function and, see it is a surprise that fish oil is rich in both of them. Taking it as  a daily dose can help your body to produce more of the stuff you need on the inside. So you don't have to worry about the outside stuff.
Skin problems come to almost many people. And the biggest obstacle in the way is to cure it in short duration. Eczema is a sort of a disease which makes many people irritated and increase their level of frustration, but these remedies can become a solution to your irritation and itchiness. So try to follow it and get yourself away from the infuriation you are facing from it.